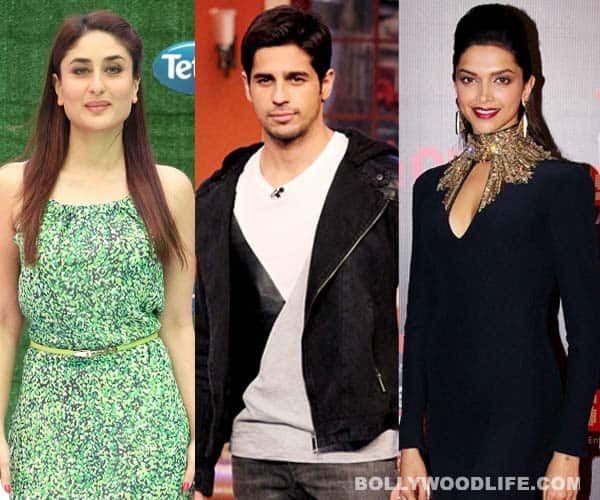 The Hasee Toh Phasee actor is ready to play the real life Casanova
Sidharth Malhotra might be romancing Bollywood's young ladies Alia Bhatt and Parineeti Chopra, but this hero is desperate to make reigning queens Kareena Kapoor and Deepika Padukone faal in love with him it seems. This newcomer finds Bebo entertaining and Ms Padukone attractive and would like to impress both these actors before romancing them onscreen. "Deepika is very interesting, she is very attractive. I have known her way back as a model but haven't spoken to her since sometime. To interact with Deepika and to try to impress her will be fun. I think I have to do some homework," Sidharth told in an interview.
The actor who is a Dharma loyalist also swear by the production house's favourite, "I am a big Kareena fan. She is very entertaining on screen and off screen also she is like that. I have met her a couple of times and she is really good. She is funny, 'bindaas'…I love the way she carries herself. It will be interesting to flirt with her."
Sidharth who made a successful debut with Karan Johar's Student of the Year will be next seen in Hasee Toh Phasee with Parineeti Chopra. Encapsulating the idea of the title he says, "It is not easy to impress any girl in any field. For boys there is a lot of work…. if a girl smiles, that does not mean she is impressed, need to do other things as well. The trick is for the guy to know what the girl likes and dislikes. It is up to you how you gauge that.. some boys have good instincts, while some are dumb and stupid. Every girl is different there is no one formula for it."
The model-actor was flooded with lot of offers post his debut but he chose Hasee Toh Phasee as his second film as he found it quirky. "I found this film interesting because of its quirkiness, there is not much glitz and glamour?it is middle class Bombay story. It is a dark intense edgy film. It has action but it is emotionally driven. I read the script and found it very quirky, funny. Vinil Mathew (director) is technically sound, intelligent,"
For the film, Sidharth had to work on his look – he had to gain some weight and colour his hair. "The character is aggressive. It requires some amount of conviction to play this role. It is a risk as the role that I play in the film is that of a older man," the 29-year-old adds. The film is produced by Johar and Anurag Kashyap, releases on February 7.