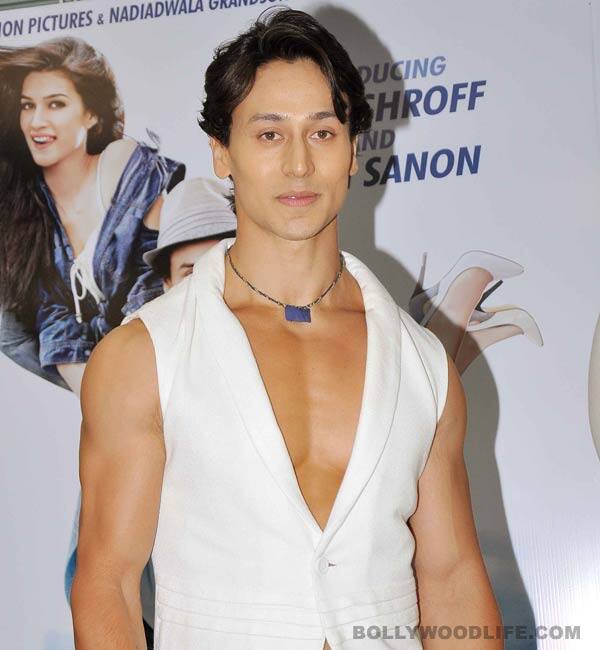 Tiger Shroff says that he is scared of being compared to his father and claims that he doesn't have the "X factor"  that his father possesses. Talking about the fierce competition in Bollywood and his debut venture Heropanti, Shroff says he has mixed feelings about the response to his film
He also says comparisons and competition ended up raising the expectations from him "too much".
In an interview, Tiger opened up about his state of mind post the release of Heropanti.
Excerpts:
The reviews have been kind to you and unkind to the film.
Yes, I am with mixed feelings right now. I am a team player, so I'd have liked the film to get appreciated. At the same time, I worked very hard on the film, so I am much relieved. The kind of grind that the whole team went through for one-and-half years …I've never pushed myself so hard in my life.
But you've always been a diligent and disciplined student?
Yes, the way I pushed myself emotionally and physically during Heropanti was something I had never done. And not only me. Everyone from the director to the light boy. So much effort has gone into the film. And yet it takes one cruel line in a review to bring it all down.
Is the criticism regarding the film unjustified?
I am no one to judge the validity of what is being said and written. I don't watch too many films. I think that's a major flaw in my life as an actor. I must start watching more films. As for the criticism, good news doesn't sell. No one in this industry likes to see other people succeed. It's a very competitive world out there. The competitive spirit is fine within limits. But it shouldn't drown the sheer joy of the game being played. It's natural to want to win. But to me, it's not natural to want others to fail.
 You sound very disillusioned by the backbiting?
All I know is, no one knows what the audience would like or not like. I've to work hard to prove myself. And the competition helps me to work even harder. The rivalry would help me to grow as an actor. My father was born to be a star. He had the 'X' factor as an actor. I don't. I'm not that blessed. I'll just keep working hard and hope for the best.
 Are you wary of being compared with your father?
I am very scared of being compared with him. I want the audience to give meA a chance to prove that I'm an entirely different package from my father. Luckily, no one is comparing me to my father after seeing Heropanti. We don't need two Jackie Shroffs.
 You are more Jackie Chan than Jackie Shroff.
(laughs) Sure, I don't mind. I am a big Jackie Chan fan. But it's Bruce Lee whom I idolize. He is the reason I started learning martial arts.
 Your dad had to come up the hard way.
Yes, my journey was made smoother because I am a star-son. Doors opened for me because of who I am. But the downside is, there is way way too much expectation from me, much more than there would have been if I were from outside the film industry. I thrive on that competition. But it does become a little hard to bear at times.