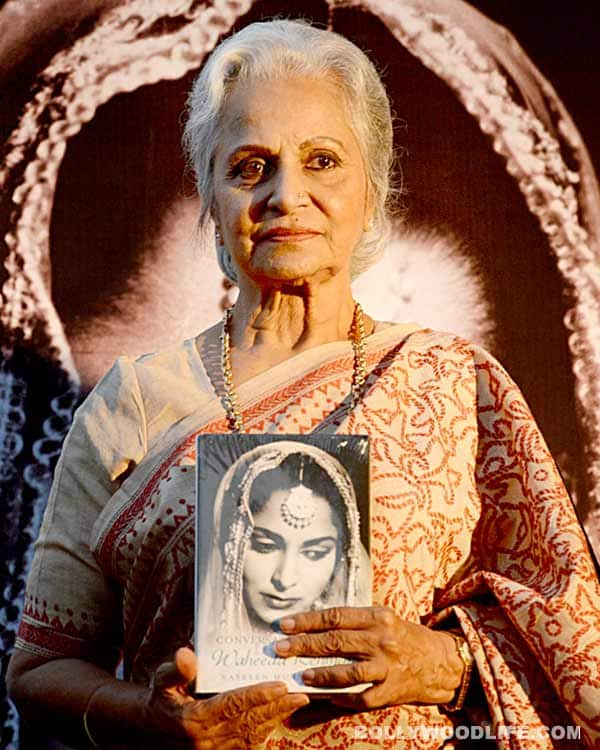 Read on to know what more Waheeda has to say about married actors, women-centric films and much more
Yesteryear screen goddess Waheeda Rehman marvels at the superior current filmmaking techniques and praises the "smart and focussed" young generation, but says that the present lot has "a shorter life" on the screen as compared to those of her time. The 76-year-old, who ruled the screen during the 1950s and 1960s and has been part of filmdom for about six decades, praises the change.
"They are improving technically, subjectwise, performancewise…. I must say that the present generation is very smart and focussed, hard working, and they know exactly what they want," said Waheeda.
Asked to draw a comparison between old timers and new age actors, Waheeda, the star of all time Bollywood classics like Solvaa Saal, Pyasa, Sahib Bibi Aur Ghulam, Bees Saal Baad and Guide, said, "I can talk about myself. I know I was successful, I was liked and loved and respected; so I was happy with that. But today there is much more. The present generation has got a much shorter (screen) life than what we had. There is always somebody standing in queue mainly because of the (influx of) models and beauty contests.
"Who will take whose place, they don't know and this must be running at the back of their mind. They have become more insecure and it is more challenging." Quite akin to her on-screen persona, Waheeda looked as graceful as ever in a cream orange printed silk sari, and listened to the questions patiently and answered them uncomplainingly. She is all praise for women-centric cinema that is translating into big bucks at the ticket window.
Lauding the women power on the big screen, Waheeda said, "I am happy because lately all the women-centric movies have been doing very well – like Highway and Queen. So many women-oriented movies! I am very happy for the girls. Now they are getting some good movies."
When it comes to actors (female), marriage is seen as a roadblock, but Waheeda says it's just a mindset. "In those days Meena Kumari and Sharmila Tagore were married, but they were so good and got good directors, subjects and their films did well. I feel it is the makers who have got this hesitation that she (female actor) is married and all… I don't think people (the viewers) who are watching mind whether the actress is married or unmarried.
"Nowadays Kajol and Vidya Balan are doing good," she added, referring to two actors whose marriage has not affected their work.
On Nasreen Munni Kabir's book "Conversations with Waheeda Rehman", unveiled by her Saturday, Waheeda said the longish interview which explored several aspects of her life and career cannot be described as a biography. "I can't say this is a biography. It's more of a question and answer (session)," she said.
Kabir, who has authored other books on Indian cinema and Bollywood personalities, holds that people "think it is an interview but my view is it is an biographical conversation, spread over 20 to 25 sessions of two hours each over one year". Asked what more is she trying to explore at this age, Waheeda said she was pretty happy with all that she had done until now. "I think I have done enough… there is nothing much exciting for me to think and do. At this age, it's too much to expect anything to get exciting, so it's better. I am very happy that everything has happened in the right way. I am satisfied with whatever I have achieved so far."