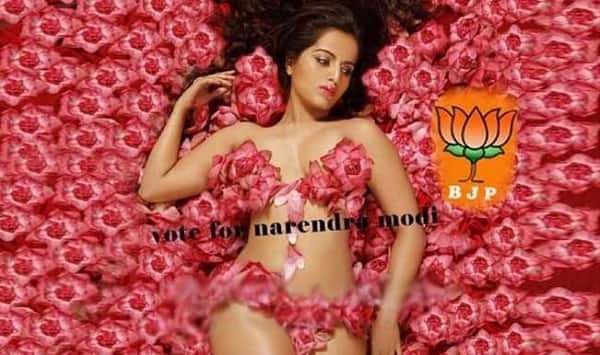 The model who did the racy photo shoot, talks about why she thinks NaMo should be voted!
Meghna Patel, who shocked everyone by stripping to support BJP's prime ministerial candidate talked to a leading newspaper about her competition with Poonam Pandey, why Narendra Modi is the best choice for India and of course her strip-and-tease photo shoot to support BJP. But, in a shocking turn of events, when we pop some basic questions on the leader, the actor was left fuming and running for her manager.
Before the Lok Sabha polls, Narendra Modi is gaining unprecedented popularity and the latest entrant to encash this popularity is starlet Meghna Patel. She has done an exclusive photo shoot in bare nothings to support BJP's prime ministerial candidate Narendra Modi which has left the party fuming. While some photos have her covered in rose petals in seductive poses, others have her standing tall covered only with a placard that reads, "Vote for Modi".
Hot model Meghna Patel strips for Narendra Modi!
But, when basic questions like Narendra Modi's full name, date of birth and village were asked, the model was left fumbling for words. It's fine to a certain extent when others fumble (you must've seen our B-town stars fumbling political names on Koffee with Karan) but if the lady has been promoting Modi and also hails from Gujarat, we expected some basic answers from the model.
In an exclusive chat with newspaper's web team, she opens up about her career, support for Modi and why she does not seek publicity.
"Please don't compare me with Poonam Pandey," says Meghna Patel while brushing away all comparisons with the likes of Poonam Pandey, Veena Mallik and Rakhi Sawant. While explaining her idea to strip and support Modi for 2014 elections, she says, "I don't want to be compared with anybody else. I am supporting a noble cause for betterment of the country while others are walking a different path altogether".
Her website allegedly crashed after she uploaded pictures with a placard urging people to support Modi.
In a statement, Patel claimed that there was the huge surge in the traffic after her semi-nude pictures went viral on social media. She said, "My site was not working for a while. It happened when all fans who supported Narendra Modi had come to the site".
Talking about Modi, she says, "Only Narendra Modi can take India towards the path of development and get rid of corruption, incumbency and lethargic governance. He is the man of today and embodiment of valour who lives in hearts of millions of people. He is the best leader we have and I urge you to go and vote for him".
Are Rahul Gandhi and Narendra Modi being used by small time models?
On further prodding about UPA and Rahul Gandhi, she says, "India gave ten years of power to Congress but all we got was scams, rapes, lies and bureaucratic inefficiency. Its time to topple the government and give Modiji a chance to power".
The model has ruffled a lot of feathers in the political circles and BJP was said to have shown disapproval for her semi-nude antics. Explaining her stance, she says, "Modiji is a political leader and will conduct rallies, speeches and take part in bureaucratic process. I am an actor and thought this would put me in spot-light and get the message conveyed to all Indians to vote for NaMo"
"If I wore a sari and asked for support, would someone even look at me and pay attention to the campaign", asks the model cheekily.
There were rumours flying thick that the timing of photo-shoot release was opposition's ploy and that Meghna was paid for her act, but the model denies the whole story. "It's all a fabricated tale that is being spread around. I don't know any other way to promote the cause and don't even have enough funds. If anyone can provide me an alternate path and fund me, I am game for it". She went on to say, "Modi developed Gujarat and created employment which can be replicated for India. Hence, every Indian should vote for Modi in the upcoming elections".
Meanwhile, she is acting in some small-time Hindi television serials and wants to make it big in entertainment industry. "I am open to working in Hollywood films too," says the model.
Story text courtesy DNA