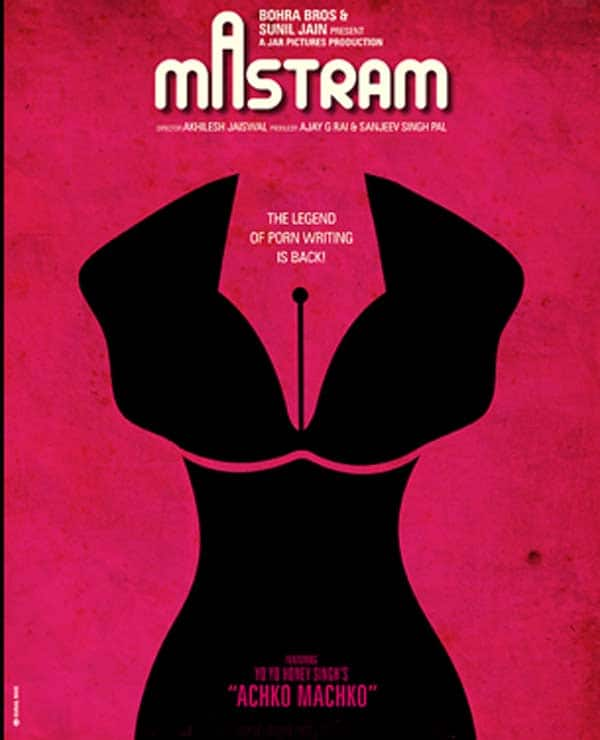 Sunil Bohra's upcoming production venture maybe under Shiv Sena's radar but film distributors are pretty confident that Mastram will appeal to the audience and even make money at the BO
Mastram, an erotic thriller about a porn writer popular in the country's northern part, is coming on the big screen May 9. Distributors from various territories predict that if promoted smartly, the film will get a good opening, overwhelming footfall and they can also "smell" that the fictional biography will do "something good" for the industry.
Sanjay Ghai, COO in Mukta Arts Limited, which has footprints in Delhi, Uttar Pradesh, Punjab and Rajasthan, is positive about the prospect of "Mastram" at the box office in the tier two cities.
"It looks like a very interesting film and I personally liked the way the producer is promoting it. It is going to create some good records for the industry. People will definitely come and watch the film," Ghai told in an interview.
However, when it comes to predicting box office numbers for the small budget film directed by Akhilesh Jaiswal and produced by Bohra Bros, it is too early, he says.
"We can't predict the business right now, but we can smell that the film will do something good for the industry. The film is made in Rs.2 crore and the publicity budget is approximately Rs.10 crore, so I am hopeful," he added.
Mastram is the pen name of the author, whose real identity is a mystery till date and it raises the curiosity around the film, in which Rahul Bagga will be seen in the title role and Trisha Berry as his supportive wife.
The curiosity element will play a vital role in bringing the audience to the theatres, says Rajesh Thadani of Multimedia Combines.
"Certain pockets like Madhya Pradesh and Uttar Pradesh are expected to do better than other parts of the country. But generally, the movie will get a good opening," he added.
Dharam Pal of Paramount Pictures is confident about the film's prospects in Uttar Pradesh but unsure about the multiplex audiences' response. He said: "In Uttar Pradesh it will probably do well. It has less chance in big cities."
Jeetu Khandelwal, proprietor of Movie Pioneers, too shares the same sentiment.
"It will do well in Hindi speaking areas like Rajasthan, Bihar, Haryana and Uttar Pradesh. People have already started talking about the title which is quite different from other movies," he said.
In the past, stories on real life characters like Paan Singh Tomar and former athlete Milkha Singh were brought on celluloid, but when it comes to Mastram, Sunil Bansal, director Yash Raj Jai Pictures Pvt Ltd, Jaipur, says it's a new experiment. So, the right promotional strategy can result in overwhelming footfall.
He has based his opinion on the audience's changing taste which turned experimental films like Ragini MMS and Love Sex Aur Dhokha into big successes.
"To be very honest, it is a new sort of experiment. As far as the buzz is concerned, there are certain reservations about how the audience will take it. It all depends on the way the makers promote the film. To get the audience into the theatres, you need to do very good promotion.
"Definitely it is a new formula and new theory and it can hit amongst audiences as new things have clicked really well so far. Ragini MMS did excellent business and surprised everyone. We can't rule out that it won't be accepted," he said.