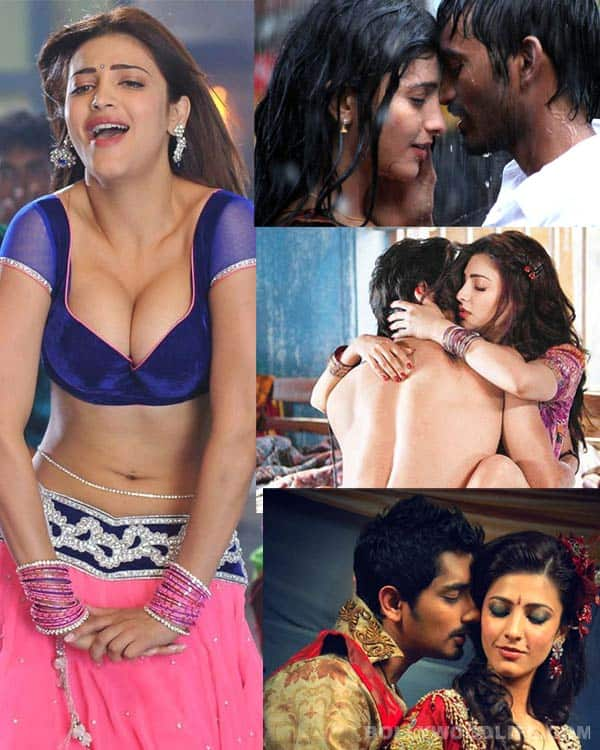 skip advertisement
We bring you the sizzling hottie Shruti Haasan's most famous or should we say infamous controversies, affairs and link ups
Shruti Haasan is the daughter of veteran actor Kamal Haasan. But did you that Shruti Haasan is also controversy's favourite child? Off late the 7am Arivu diva has been buzzing in the news thanks to her leaked raunchy pictures from Yevadu's song Dimple pimple. The svelte beauty's titillating pictures went viral and  the latest we heard that Shruti Haasan has filed a complaint against these defamatory images.
Every heroine has her fair share of link ups and controversies, but Shruti Haasan has had so many of them in a short span of her career that one wonders if she is a magnet to attract trouble. Fasten your seat belts for an exciting ride as  Bollywoodlife brings you six of Shruti Haasan's biggest controversies, affairs and linkups.
Shruti Haasan's infamous nose job
Sexy Shruti made her debut in Bollywood against Imran Khan in Luck. About a year later the hottie apparently went under the knife to fix her nose to suit her angelic face. When the diva appeared again in front of media after the surgery, her nose job became quite a sensation amongst the gossip mongers. Many female actors undergo plastic surgery but none of them are honest enough to admit the obvious truth. But when this bold babe admitted to have undergone a nose job, the media again went berserk with pretty lass's admission. Many might debate if plastic surgery was the correct thing to do for Shruti.  Right or wrong the sizzling wonder was making headlines with her infamous nose job.
Shruti Haasan-Siddharth live-in relationship
Back in 2011, when the  Siddharth-Shruti Haasan- Hansika starrer Oh My Friend released, something was brewing between Siddharth and Shruti. Apparently the tow were quite an item and were considered to be dating each other. Grapevine has it that Siddharth and Shruti Haasan had moved in together and were rumoured to be in a live-in-relationship. During those days and even now, live-in relationships are frowned upon. When the news of two stars getting comfy in a condo surfaced, the fans were hooked to this  spicy development in the couple's life. Though the Rang De Basanti actor and Shruti broke up, but their live-in is still a hot discussion in the gossip mills.
Shruti Haasan-Dhanush affair
When the Kolaveri Di number had  gripped the nation, when the Dhanush-Shruti Haasan movie 3 received an overwhelming response, everything was not hunky dory at the superstar Rajinikanth's family. Kolaveri singer-actor Dhanush, who is the son-in-law of the Thalaiva, was said to be having an affair with his 3 co-star Shruti Haasan. The rumours flew thick and fast that Shruti and Dhanush were secretly seeing each other much to the dislike of Dhanush's wife  Aishwarya Dhanush. It's amusing to know it was Aishwarya who brought the hot couple together for the movie 3. It caused some unrest in Rajini Sir's family and Shruti was believed to be the reason behind it. Later, Aishwarya Dhanush made a public statement that  the rumours of her husband's affair with Shruti were not true.
Shruti Haasan's hot Maxim photoshoot
The daughter of Padma Bhushan awardee Kamal Haasan would be the last  one you expect to feature in adult magazine. But the ultra sexy Shruti stunned the world with her revealing pictures for a New York based Maxim. When the pictures of her Maxim photo shoot hit the internet, it made a few jaws drop ans eyes roll. In the black lingerie, Shruti looked damn hot! She featured on the cover of Maxim for May 2013 edition. Some felt it was not appropriate of her to pose for such pictures, her fans thoroughly enjoyed her sexy avatar.
Shruti Haasan's pornographic  D-Day posters
After shocking the world with her bold Maxim photoshoot, the pretty lass gave another shocker when she announced she was playing a Pakistani hooker in her next Hindi film D-Day. But the thing which irked Shruti and D-Day director Nikhil Advani was revealing pictures of Shruti sharing an intimate moment with Arjun Rampal in the film, being used as D-Day's poster for its Tamil version. The posters showed Shruti in poor light and the actor was understandably miffed by it. "I am not associated with the Tamil version of D Day — this matter is under legal consideration at the moment.'' tweeted the young starlet. Nikhil Advani stated "One needs to maintain the sanctity of a film and ensure that it is marketed in a certain manner. The distributors of the Tamil version have promoted it as a pornographic film by using only Shruti Haasan's photo in the film's poster."
Shruti Haasan's scandalous leaked pictures from Yevadu
The biggest controversy of them all is her recently leaked revealing pictures from her Telugu flick Yevadu, which are still trending in several social networking sites. The titillating pictures, which were secretly taken while filming a song , show the sexy kitten in her most glamourous avatar. These pictures have become the talk of the town and Shruti Haasan has become the most searched  Tollywood hottie over the internet. The Yevadu diva who has been fuming with rage over these pictures has filed a police complaint against the producers. The police is investigating the matter as to who is responsible for these unflattering images of Shruti Haasan.
After all the drama surrounding the Dimple pimple babe has come to unfold, one can say that films or not, the Luck actor can't just keep herself away from the limelight.