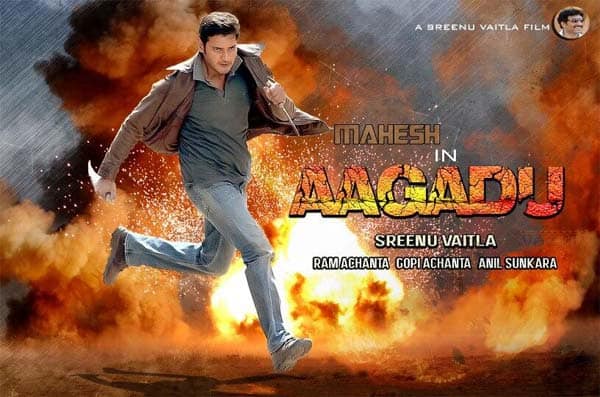 The much awaited teaser of Mahesh Babu's Aagadu shows the star in scintillating form
The first look of this year's most awaited releases, Mahesh Babu's Aagadu has hit the internet. Fans who were speculating the plot of the film get a fair idea as the teaser shows Mahesh Babu playing a rough and tough cop with incredible gusto. The makers of Aagadu released the 50 second teaser on the occasion of birthday of Mahesh Babu's father actor Krishna.
The film had earlier been in the limelight due to the much publicised fight between actor Prakash Raj and director Srinu Vaitla, following which Prakash Raj was replaced by Sonu Sood as film's villain. So what is the teaser all about? Aagadu teaser opens with a mixture of long shots and close ups of gun clad Mahesh Babu in khakis owning the frame with his confident gait and intimidating body language.  A lot of action seems to be happening onscreen in an industrial backdrop.  The superstar's fans are in for a treat as Mahesh Babu bashes the baddies with scintillating style and mouths some outrageous dialogues with panache.
Some of the dialogues are bound to create furor amongst the masses as the makers have not shied away to take a dig at the  long living trend of punch dialogues in Telugu cinema. Mahesh Babu plays the role of feared cop to perfection and pulls off the act of rowdy police act with great style. The actor seems to have owned the role and his confidence is bound to leave you in awe. Neither the heroine of the film Tamannaah nor the other actors have been featured in the teaser.
 Backed with some energy inducing background score, Mahesh Babu shines in the Aagadu teaser from start to finish.
Watch the trailer below!