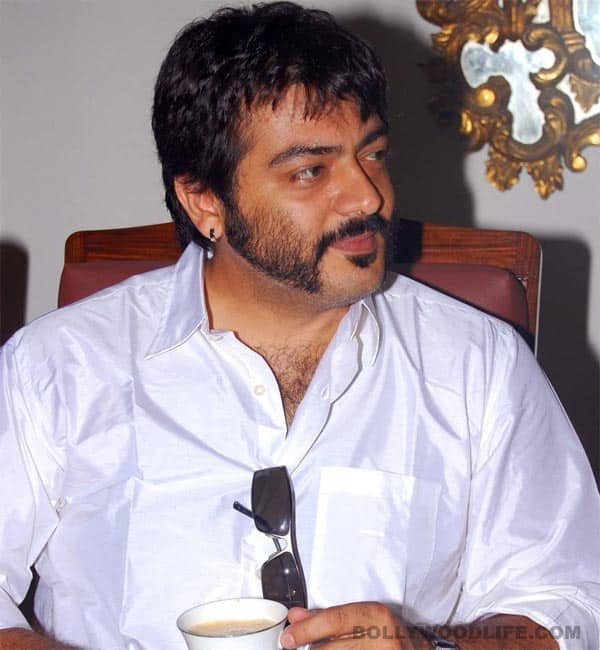 The Kollywood actor turns 42 on May 1, 2013
It'll be a working birthday for Ajith this year, for the Thala is in Jaisalmer shooting for his film with Vishnuvardhan. It won't be all work though, for wife Shalini and daughter Anoushka are expected to join him there, so there'll be some celebrations, albeit low-key. For that is Ajith's style.
The Mankatha actor has also requested his fans, who are legion, not to go overboard with birthday celebrations and instead to engage with some social cause if indeed they wished to mark his birthday in any way.
At 42, Ajith is possibly one of the most grounded, balanced Kollywood stars whose fans virtually worship him at every turn. His maturity must be a result of all the ups and downs he has faced in his career.
After a not-so-promising start, he went on to star in such commercial hits as Aasai and Unnai Thedi. Vaali, in which he played a dual role, was one of the high points of his early career and established his acting credentials. Mugavaree and Rajeev Menon's romantic film, Kandukondein Kandukondein, showcased his ability for sensitive portrayals. He was also superb in the 1999 film Amarkalam, during the making of which he fell in love with Shalini and married her soon after.
Always passionate about his racing career, Ajith let that take precedence in the mid-2000s, and he didn't have too many hits at that time either, with films such as Anjaneya failing to live up to their promise. Ajith has, in the rare interviews he's given, admitted that he's made bad decisions from time to time.
He broke his indifferent run with Paramasivan and Varalaaru in 2006, following that up with Billa in 2007. Mankatha in 2011 was Ajith's 50th film and rocked at the box-office. c did less impressively, but Ajith kept his reputation for style and substance intact.
Fans now await the release of Ajith's Vishnuvardhan film and its title is expected to be unveiled on his birthday. Here's wishing the Thala, an actor and a gentleman – as all those who've interacted with him vouch – a very happy birthday!