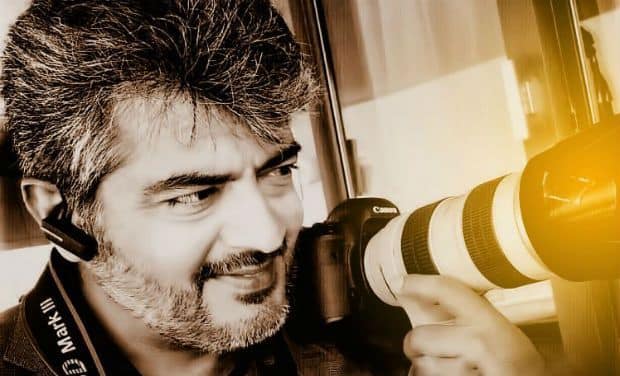 Apart from car racing, Thala Ajith seems to have developed a special interest in photography
Being an actor, Ajith has always faced camera umpteen number of times. But it is a rare occasion when an actor shows burning passion to learn the  intricacies of the craft behind the camera. We hear that Ajith has developed such a passion for photography and has dived into an experimental mode with his camera.
A source tells us that,"Ajith takes photography very seriously. In fact, he makes it a point to take his camera with him every time he goes to a new location. Several people, including actor Piaa, have credited Ajith for inspiring them to take up photography. Now, the actor wants to try his hand at indoor photography. He has been asking his photographer friends for tips on the different techniques associated with shooting indoors. He has also been researching on the internet about different lights, lenses, and reflectors."
"Ajith has been buying indoor photography equipment to experiment at home. Of late, the still photographer, who works on his films, has been helping the star. In fact, he is now Ajith's favourite subject and poses for the actor!" added the source.
Looks like the race car enthusiast Thala has found a new muse in photography. We bet it would be a sight worth watching when the actor and his lens man reverse roles to fuel Ajith's passion. Right Bollywoodlifers?