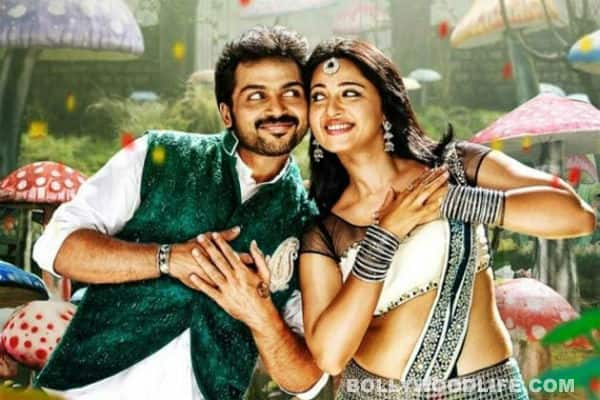 While Kollywood saw nearly half a dozen Pongal releases, all eyes were on Alex Pandian, which was promoted in a big way
A lot was riding on the film as its hero, Karthi Sivakumar, was looking for a change of fortune after the poor show of his previous release, Saguni. Of late, Karthi is being projected as a mass hero and the director of Alex Pandian, Suraj, has taken pains to bolster that image. Karthi is clearly happy to go along.
Karthi and Santhanam form a pretty good team, having already made a mark in Siruthai and Saguni. In Alex Pandian too, the duo dominate the first half and Santhanam, especially packs a punch with his witty dialogues. Anushka Shetty looks her glamorous best and does her bit in the action scenes too.
The director who makes no bones about focusing on action-entertainers, sticks to the same formula and comes up with another formulaic offering. The story isn't novel or surprising. It is about a convict, who kidnaps the Chief Minister's daughter for cash. Later, he falls for her and resolves to rescue her from a group that is out to unleash havoc in the State and has diabolical plans. There are a multitude of villains and the film ends with a battle between the protagonist and the baddies. Interestingly, there are as many as eight villains to add to the action quotient.
Devi Sri Prasad's music has its usual feel and he has come up with some fast-paced numbers similar to those in Singam. Despite the positives, there are flaws that tend to weigh down Alex Pandian. If only Suraj had worked to craft a more interesting tale!
If the movie was an attempt to boost Karthi's image, it succeeds, but it falls flat on many other counts.
Rating:
out of 5
Reviewed by India Syndicate
* Poor
** Average
*** Good
**** Very good
***** Excellent