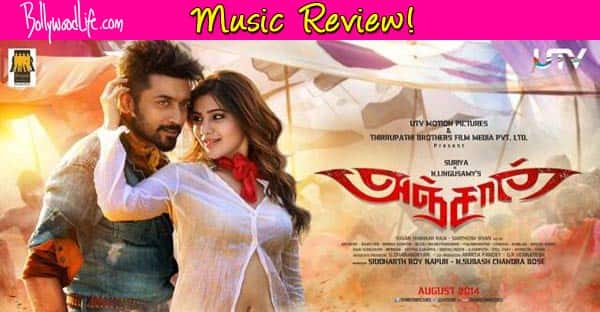 Music: Yuvan Shankar Raja
Lyrics: Kabilan, Madhan Karky, Na Muthukumar, Viveka
Singers:  KG Ranjith,Benny Dayal, Shweta Pandit,Andrea Jeremiah, Suriya,M M Manasi,Sooraj Santhosh, Yuvanshankar Raja
Suriya's next action entertainer, Anjaan, is set to hit the screens on August 15. Helmed by N Lingusamy, the film boasts big star cast with likes of Suriya, Samantha, Vidyut Jamwal and Manoj Bajpai in the lead role. The film's music composed by Yuvan Shankar Raja is out and making some buzz as Suriya has crooned for a song. The music album comprises of five tracks. With Anjaan being touted as a fast paced entertainer, Yuvan Shankar Raja's music is expected to be racy. Does the terrific composer live up to the expectations? Lets find out…
Bang Bang Bang
Ever since this song was featured in Anjaan teaser, we knew that this electrifying number is an out and out winner. Sung with gusto by singer Ranjith, the song raves about the qualities of Raju Bhai played by Suriya. Music from Yuvan Shankar Raja is bang on target with some riveting guitar riffs to start off, followed by techno beats and mesmerising  violin piece. The song maintains its tempo coupled with energetic lyrics from Madan Karky. Bang Bang Bang stands out as easily being the best track in the entire album.
Oru Kan Jaadai
Sung by Benny Dayal and Shweta Pandit, Oru Kan Jaadai is a unique number which combines western style rock music with romantic lyrics penned by Viveka. Yuvan relies heavily on electric guitar and bass to churn out a fun number. The song may not appeal everyone when heard for the first time, thanks to its unusual fusion of western sounds to love song lyrics, but the song grows on you each time you listen to it.
Ek Do Teen
This is the song which every Suriya fan has been waiting for. Sung by Singam star along with music director Yuvan Shankar Raja and Andreah Jermiah, Ek Do Teen is a fun seductive number which starts off with interesting chorus followed by foot tapping percussion beats accompanied by constant whistles in the background. While Suriya has crooned well for the song, it is Yuvan's voice which overpowers the star's vocals and, at times, becomes difficult to differentiate between the two. Andreah Jermiah adds the hotness quotient to the song with her seductive voice.
Sirippu En
Hearing this song, it is beyond doubt that the item number in the film is picturised on this song. With rhyming verses penned by Viveka, MM Manasi lends voice to this raunchy number. This song is probably the weakest number from  Anjaan album. That doesn't mean the song cannot be enjoyed. The song boast some rich musical arrangements and has a middle eastern touch to it. It is lyrics which play the spoilt sport here with plenty English words used to make the song rhyme.
Kaadhal Aasai 
This is a typical Yuvan Shankar Raja romantic number which has been voiced by the music director himself with lots of high pitched singing. Unlike the other songs in the film, Kaadhal Aasai is heavy on tabla beats combined with Sufi style musical arrangements. At times, the song gives the vibes of Yuvan's father Ilaiyaraaja, the master of melody. But compared to earlier heart wrenching songs sung by Yuvan over the years, this one lacks the moving quality. In short, the song is good to hear but is not a chart buster.
Verdict: Yuvan Shankar Raja has churned out a decent album except for a song or two which stick out like sore thumbs. Music has good mix of Western instruments interspersed with rustic beats carried ably by barrage of talented singers. In short, Anjaan music is a treat for Suriya fans while the rest can enjoy this likable album  
 Our Pick: Bang Bang Bang and Kaadhal Aasai
Rating:
out of 5
Reviewed by Subramanian Harikumar
* Poor
** Average
*** Good
**** Very good
***** Excellent