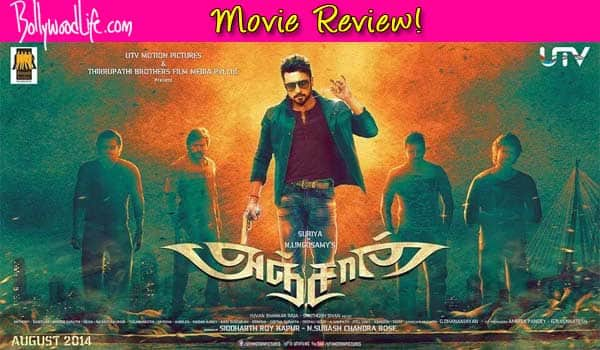 N Lingusamy dishes out a visual spectacle giving full value for your moolah
What's it about:  The story revolves around a crutch wielding Krishna who is in search for his missing gangster brother. As the story goes on flashback mode, we get an insight into the life of stylish gangsta Raju Bhai and his partner in crime aka best friend Chandru, who are steadily climbing the ladder in the world of crime. While commissioner's daughter played by Samantha falls for Raju bhai played by Suriya, an ego clash with dreaded don of Mumbai, Imran Bhai, puts Chandru and Raju Bhai in trouble. The best friends are both assassinated by Imran. Will the handicapped Krishna find the truth about his brother's murder and avenge his death?
What's good: Anjaan is an out and out entertainer, from start to finish. Director N Lingusamy is on the top of his game, providing thrills and fun at every turn. Though the film has an action story at its core, Anjaan's biggest plus point is the cute romance between Suriya and Samantha. The duo looks great together, providing much needed fun quotient to a film filled with high octane action sequences.
Suriya plays his part of a rugged don with gusto and style, looking convincing enough as the bullet firing, fist punching gangster. The way he moves the tooth pick using his tongue is widely applauded by the audience.The Singam star acts well in emotional scenes too, pulling off romantic scenes with great intensity. Samantha makes most of her small role and manages to leave a mark with charming performance. She also adds the much needed glam quotient in the film as she scorches the screen in a aesthetically shot bikini scene. Vidyut Jamwal does a decent job and has a substantial role to play in the film. The cinematography deserves a standing ovation as it adds so much life and colour to the narrative. The fight scenes are executed with precision, keeping you hooked to the screens. The music form Yuvan Shankar Raja is enjoyable and the picturisation Kadhal Asai song is lovely. Parotta Suri provides a few laughs as a taxi driver, who keeps on bumping into Suriya. The Tamil superstar Suriya pays an ode to his close friend Rohit Shetty as Samantha is shown as a big Chennai Express fan. The scene where the trio of Samantha, Suriya and Vidyut break into a dance to popular Bollywood tunes is thoroughly enjoyable.
What's bad: The film has a flawless first half and at the point of intermission a big twist is revealed, which kills the fun a bit in the second half. Post interval, the film loses its steam with incessant flashbacks and long songs, blocking the narrative flow of the film. Actors of great caliber like Manoja Bajpai and Brahmanandam are wasted in small roles. Samantha looks gorgeous but her short screen presence leaves you wanting for more. The second half drags a little and a crisp editing could have benefited Anjaan. It is also surprising to see how no one could spot Krishna as Raju Bhai's brother, since both of them look alike except for the beard and hairstyle.
What to do: This Independence Day treat from Lingusamy-Suriya combo is a must watch as the film packs all the elements of commercial cinema into an intriguing story which will leave you satisfied while you leave your seats.
Rating:
out of 5
Reviewed by Subramanian Harikumar
* Poor
** Average
*** Good
**** Very good
***** Excellent