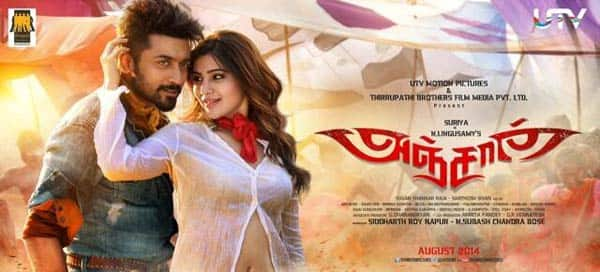 The makers have released the trailer just a week before the film hits the screens
After setting the K-town abuzz with pleasing music and a kick-ass teaser, N Lingusamy has finally unveiled the trailer of Anjaan. The film starring Suriya, Samantha, Manoj Bajpai, Vidyut Jamwal, Dilip Tahil and Parotta Suri is marching towards its Independence Day release. While you enjoy Yuvan Shankar Raja's tunes, we tell you five things about the trailer that make the wait worthwhile. Take a look…
Suriya shines in dual role as Raju Bhai, the gangster and Krishna, his crutch wielding brother. While the actor plays the gangster character with gusto and style, he shows enormous restraint as Krishna, effortlessly pulling off two completely opposite roles.
The action is adrenaline pumping with lot of emphasis on establishing Suriya's Raju Bhai as a feared don of Mumbai. The camera work oozes style, adding charisma to the glamourous Mumbai city.
While the story line may not be novel, the execution of the screenplay from director, N Lingusamy seems to be top notch, with lot of interesting visuals to aid the flow of the film.
The scenes between Samantha and Suriya add the much needed romantic flavour in an action packed film. The shot in which Suriya blushes, will certainly bring smile to your face.
Vidyut Jamwal plays the hero's best friend and not a baddie for a change. The chemistry between Suriya and Vidyut as best friends looks great on screen. Bollywood veterans like Dilip Tahil and Manoj Bajpai seem to be playing interesting roles too.
Here's the trailer. Watch and enjoy!