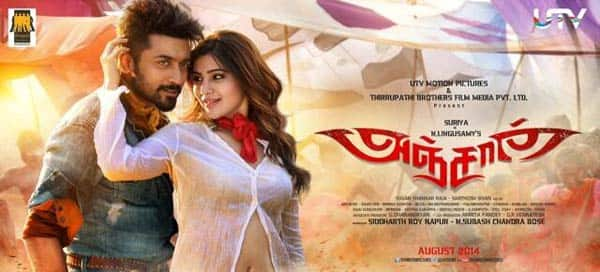 Soon after audio release, the leaked videos have hit the internet by storm
Suriya-Samantha starrer Anjaan is garnering some positive feedback about the look and music of the film. While Yuvan Shankar Raja's tunes have taken over K-town, director N Lingusamy has a big headache to face as videos of few songs were leaked online last week.
The entire footage of two popular songs from the film, Bang Bang Bang and Ek Do Teen Char, was uploaded internet by some miscreants. While viewing the songs, what startled us, is that the songs were played in a big screen at some unknown theatre where some person had  recorded the video using a mobile camera.
There were few scenes from the film that were uploaded on the internet, but they seem to have been deleted due to some strict action from the producers. The producer Dhananjeyan tweeted, "We deleted all leaked scenes from web. We are searching the accused, who is uploaded the songs in internet. Once we found he'll be in Jail".
This  incident poses some serious questions on the measures taken by producers to safeguard the film. We believe it is a matter of time before the videos are taken off from all sites.