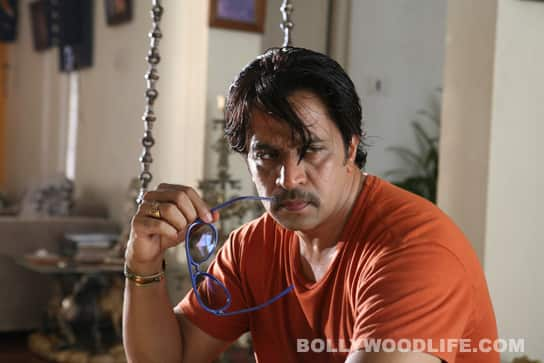 South star Arjun Sarja, who's frequently been seen as an action hero and khaki-clad fighter, is making a marked deviation with his 150th film in the industry
In this one, titled Prasad, Arjun plays a middle class father. Directed by debutant Manoj Sadi, the movie was screened at Berlin Film Festival recently and won accolades and admiration. With music by Ilayaraja, the film is scheduled to release in March. "Prasad is a different film in my career spanning over 26 years. I play a mechanic who finds it difficult to make both ends meet. As an actor it was a rewarding experience for me to break the monotony and try my hand at something different." In a freewheeling chat, the actor talks about his forthcoming films, his aspirations and his long career in cinema…
Was it a conscious decision to do a film like Prasad?
I believe that an actor should do varied roles. Though people see me in action-packed roles, I always wanted a difference. When the script came to me, I was so moved and readily accepted. Also, it happened to be my 150th film.
Tell us about your role in Prasad.
I play a middle-class father,who hopes all his woes will end once he has a son. When the son is born, he is deaf and dumb. What happens then in his life forms the crux. Madhuri Bhattacharya plays my wife. It is a realistic film. The movie has no action or romance.
How does it feel to don the role of the much-admired top cop K Vijayakumar in the bio-pic on Veerappan?
Initially when director A M R Ramesh approached me for the role, I was hesitant. I thought people knew everything about the episode and there was nothing new in it. But the details and homework done by the director left me very impressed. I had the good fortune of meeting Vijayakumar and had long discussions with him. With renewed energy, I agreed to do the role.
Are you playing a negative role in Mani Ratnam's forthcoming venture Kadal?
I play a meaty role in Mani sir's movie. It is not a negative character. It is a role which I have not played so far in any of my films. I can't reveal much more as we haven't started the shooting yet. I'm thrilled to do a Mani Ratnam film for the first time.
Has direction taken a backseat now?
I love directing. Though I am doing a handful of films as hero, I'm still keen to wield the megaphone. I am directing besides playing the lead role in a movie to be produced by Aascar Ravichandran. Also, there are plans to helm a Hindi movie towards the end of this year.
What is the secret of your fitness?
I love to spend time in the gym. I keep my mind healthy and do things with passion. Also the blessings of the Almighty have kept me going so far.