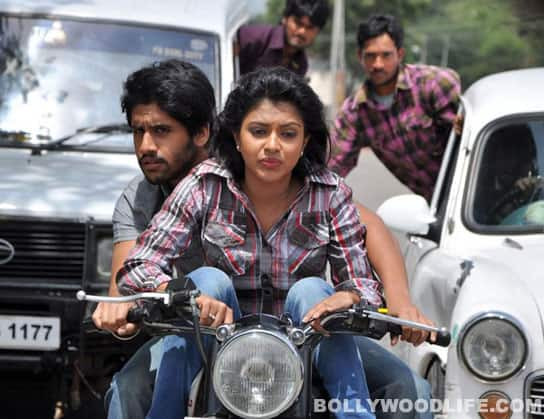 After giving a couple of box office duds in Hindi, Ram Gopal Varma has returned to Telugu. Unfortunately his over-hyped films made at shoestring budgets without any seriousness meet with below average response at the box office. His recent production venture Bejawada, directed by Vivek Krishna, is another addition to the list of his senseless films
A small percentage of Telugu audience had some hope from Bejawada because of the casting and pre-release hype.  In 1989, Varma brought a breath of fresh air in the Telugu film industry with Shiva and Kshanam Kshanam. After that he shifted to Bollywood and made successful films like Rangeela and Satya. But after Sarkar, he has not delivered any successful Hindi movie. He met with the same fate in the Telugu film industry after making insignificant films like Dongala Muta.  Varma tried to create curiosity about Bejawada by using a controversial title, but couldn't succeed. The title created controversy as Varma announced that he will focus on the activities of the underworld in Vijayawada city (Bejawada) which saw many fights and violent deaths. The rivalry between Vangaveeti Radha and his opponents resulted in bloodshed.  But Varma's film does not have any incidents related to either Radha or his brother Ranga who became a torch bearer of his family's underworld activities.  "Bejawada" story cannot be linked to any other city. The film is neither thought provoking nor realistic. It fails to connect to the audience mainly because of the poor handling of the subject by the director.
The story revolves around Siva Krishna, who is seeking revenge for his brother Vijaya Krishna's death. The film is so amateurishly made that you feel sorry for Naga Chaithanya for accepting it. If his earlier film Dada was a forgettable movie, Bejawada makes you wonder whether his father, actor Nagarjuna, had heard the script before his son signed the film.  Amala Paul, the talented actor, has also been wasted. Prabhu and Mukul Dev have done their best in the poorly written film. The veteran artists have tried to make an impact, but their roles suffer because of bad characterisation.  As far as the music is concerned, too many cooks have spoiled the broth.  Vivek Krishna has written a poor script and inserted rehashed sequences of Varma's previous films. The narrative is so bad that you lose interest in the beginning itself. Even an expert editor like Gautham Raju has failed to present a neatly edited movie.  Bhupathi Raju's camera work is also weak.  In short, Bejawada is a wasted effort.