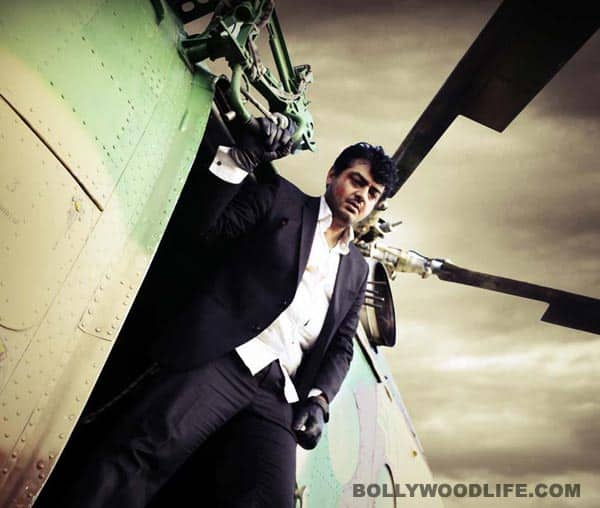 The much-anticipated film has finally hit the screens and Ajith's fans are in a frenzy
If you visit Chennai this weekend, you will be forgiven for thinking that Diwali has come early this year. A festive spirit has engulfed the vast majority of Chennaites. The reason? Thala Ajith Kumar's film Billa 2 has finally hit the theatres. The film had been delayed for various reasons but now that it has finally released, Ajith's fans can't stop grinning. Several groups gathered around cinema halls over Tamil Nadu and celebrated the movie's release by bursting crackers, distributing sweets and congratulating each other.
Special shows of the film started as early as 6 am in many theatres. Police personnel had to be posted to ensure that things were under control, as hundreds, if not thousands, gathered in front of cinema halls.
The film is having a mega release in over 1200 cinema halls all over the world. Almost all top screens in and around Chennai are screening Billa 2, and still tickets are impossible to come by. In fact, those having a ticket for the film on the first day were looked upon with envy in their circles.
Tickets for the first five days have been sold out in advance in almost all the theatres where the film is being screened. "This is the biggest advance booking and a record for this year so far. Ajith has once again proved that he is the king of openings,"' says the manager of a cinema hall in South Chennai. Speaking about the film's opening, Aascar V Ravichandran, who is distributing Billa 2 all over Tamil Nadu, says, "Ajith sir has a phenomenal impact on the opening. The volume of advance bookings for Billa 2 all over Tamil Nadu is proof of that".
Billa 2 has set another record as 75 shows are being screened at the Mayajaal multiplex in Chennai. Other multiplexes in and around Chennai will also screen the film in all their screens. Cashing in on the craze, tickets were sold for a big margin on the black market.