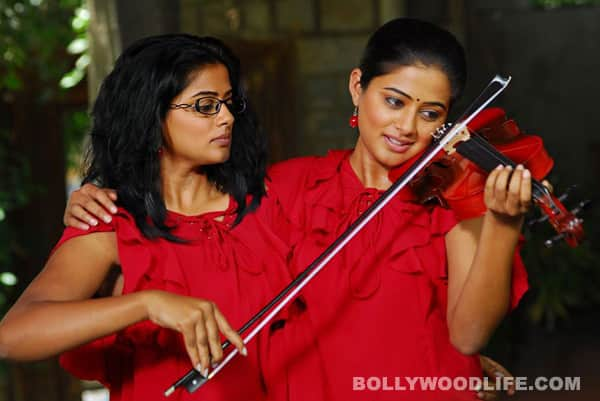 Conjoined twins are the current favourite film characters in Kollywood it would seem
Even as the Suriya-starrer Maattrraan is awaited, Charulatha directed by Pon Kumaran has hit the screens. The filmmaker, who's previously worked with K Bhagyaraj and K S Ravikumar, has chosen to veer off the beaten path and has plumped for a thriller. Inspired by Thai film Alone, the movie has some spine-chilling moments interspersed with spirits, revenge and romance. The director has stuck to a minimal number of characters in an apparent bid to keep things simple. He has made a good attempt, but the predictable storyline is a let-down.
Priyamani, who plays the title roles and is making her way back into Kollywood after a hiatus, comes up with a stellar performance. Her presence makes even the dull moments watchable. She occupies the whole of the film and carries it entirely on her shoulders, while underlining her immense acting prowess. The others in the cast, including the protagonist Skanda, Saranya Ponvannan and Seetha add strength to the film.
The storyline goes thus: Charu and Latha (both played by Priyamani) are conjoined twins. Charu lives with a sense of guilt that her twin sister was separated from her through surgery. A few years after her sister's death, Charu returns to her native place. There she encounters the spirit of her dead sister, who is looking to kill her. Charu is driven to the edge as she tries to save herself. Her fiance Karthik (Skanda) comes to her rescue. But he too faces Latha's wrath. There is a twist in the tale towards the climax, which adds some interest to Charulatha.
The numerous sub-plots detract from the story and you cannot help thinking the suspense element is missing. The visual effects work though, and Sundar C Babu has come up with a score that helps the film. Charulatha is a novel attempt, but could have been executed better.