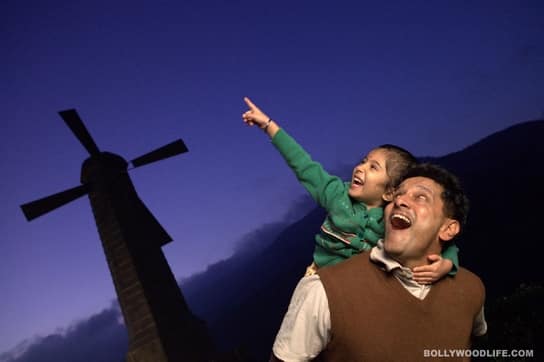 Amazing performances by Vikram, Anushka and Amala Paul make this a must-watch
If there is an award for maximum number of best performances for a single film this year, then Deiva Thirumagan will be first in line to bag it.
The film starts with Krishna (Vikram), a special needs individual with an IQ of a six-year-old, searching for his five-year-old daughter Nila (Sarah). Vinod (Santhanam), an associate of lawyer Anuradha (Anushka), is desperate for clients. Mistaking Krishna to be a potential client, he takes him to Anuradha, who, after trying to get rid of him, decides to seek justice for him.
Anuradha learns about Krishna's story from Victor, the owner of a chocolate factory in Ooty where Krishna used to work. Victor tells Anuradha that Nila's mother is dead, and her maternal grandfather tricked Krishna and separated the two. Complicit in this scheme was Nila's aunt, Shwetha (Amala Paul). Once Anuradha hears the full story, she tries to reason with Nila's grandfather, who employs the invincible Bashyam (Nasser), a reputed lawyer, to fight the custody battle. For the rest of the movie, Anuradha tries hard to unite father and daughter.
Director Vijay has managed to extract best performances from all his cast members. Vikram is amazing as Krishna. He seems to have lived the role. Sarah has done a fine job. Both Anushka and Amala Paul look divine and play their parts to perfection. Santhanam, Nasser and MS Baskar are a big plus for the film. GV Prakash's music is another big strength as is the camerawork of Nirav Shah. On the whole this is a must-watch family entertainer.