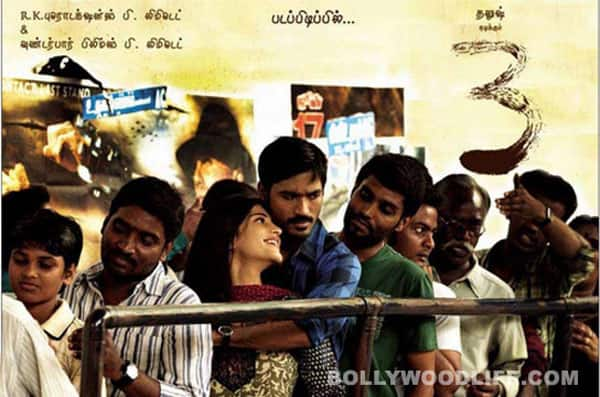 The Kolaveri di film, 3 was touted to become a huge success at the box office. Even the distributors believed so and paid a whooping Rs 80 crore for it. But things didn't pan out as expected
The Dhanush and Shruti Haasan starrer film, directed by Rajinikanth's daughter Aishwarya, was slated to become a blockbuster. The hype around the song Kolaveri di and the over-the-top publicity invoked a lot of curiosity among the masses. But 3 came as a huge disappointment for the audience, and bad word of mouth resulted in low collections at the box office. This did not go down too well with Tollywood producer-distributor Natti Kumar who incurred a huge loss. Kumar lodged a complaint at the Hyderabad police station and urged Rajinikanth to pay for the losses incurred. "I urge Rajinikanth to mediate since we bought this film only for his brand name," said Kumar to a daily.
The distributor claims that the film was completed inexpensively using a digital camera worth Rs 6 crore and was sold for Rs 80 crore worldwide, including Rs 5 crore for Telugu rights. He also says that the production value of the film is very low. Even the hit song, Kolaver di was shot very economically at a beach. He further asserts that the makers of the film pocketed all the money and gave very poor production value. Responding to this, Dhunush's father and producer of 3, Kasthuri Raja said that he will file a case of defamation against Natti Kumar if he continues to make such baseless complaints and drag his son and daughter-in-law into it.
We understand Kumar's plight and insistence for reimbursements, but why demand it from Rajinikanth? What connection does the superstar have with the film, besides the fact that it's his daughter and son-in-law's work? We think Kumar should confront the producers of the film instead of hounding Rajinikanth. Don't you agree?
READ MORE ON 3:
Rajinikanth compensates the losses of Dhanush-Aishwarya's `3′
Dhanush rubbishes stories about Rajinikanth paying for `3′ losses
Dhanush's `3′ movie review: It's neither joyous nor serious