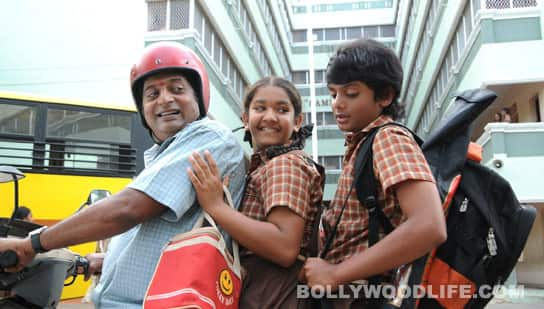 It is merely coincidental that Prakash Raj's Dhoni hit the screens a day after a Chennai lad stabbed his teacher to death. But the significance of Dhoni's plot has been underpinned by the ghastly incident and should trigger a debate on what ails our educational system
Dhoni, actor-producer Prakash Raj's directorial debut, isn't about cricket as the title would suggest. It is about parental and peer pressures kids face as they aspire to chart their own path. Of course, the protagonist has a liking for the Indian cricket captain and sees him as a role model.Prakash Raj, who has always invested a lot of time and thought in his stints as an actor and producer, has handled the delicate plot of Dhoni with finesse. The conviction to take up such an intricate subject has paid off as the film reveals, in the process throwing up serious queries as to whether the education system of our times need a complete overhaul. That film unveils from the point of view of a middle class family. Perhaps it is a deliberate choice as the middle class is the one most fixated by the finer nuances of the 'system'.
It may be noted that Prakash Raj had earlier produced Abhiyum Naanum,' which explored the relationship between a father and daughter. In Dhoni too, Prakash Raj essays the role of a father, who leaves no stone unturned in his attempt to earn the extra penny so that his children can get the best education. The catch, however, is that he fails to understand his son's aspirations in the process, a real pointer to the disconnect between kids and their parents in the times that we live in.
Subramanaim alias Subbu (Prakash Raj) is a middle class father with a daughter and son Karthik (Akash). Subbu showers affection on his children and would go to any extent to keep them happy and also educate them. Though he is a government employee, he does other odd jobs like selling pickles and ensures that his children study in one of the best schools.
While the daughter lives up to dad's expectations, problems begin when his son Karthik, a big fan of Dhoni, aspires to become someone like his cricket idol. He fares badly in his examinations as his focus is elsewhere. Subbu is shattered as Karthik's school teacher informs him that his son has fared badly in exams. Subbu loses his cool and slaps his son, who sustains serious injuries and slips into coma. Only then does the doting father understands that the rat race for marks and grades had made him a beast, prompting him to do a volte-face and raise his voice against the educational system, which makes kids a slave to books.
Prakash Raj has done a commendable job juggling between the twin roles of a director and actor wonderfully. Akash, son of Tollywood director Puri Jagannadh, plays his son obsessed by cricket and is the scene-stealer. Radhika Apte, Nasser, Brahmanandham, Chaama and 'Thalaivasal' Vijay do what is expected of them. Prabhudeva impresses in a cameo. Maestro Illayaraja's music and background score add strength to Dhoni. Prakash Raj's directorial debut is indeed a heartening attempt.