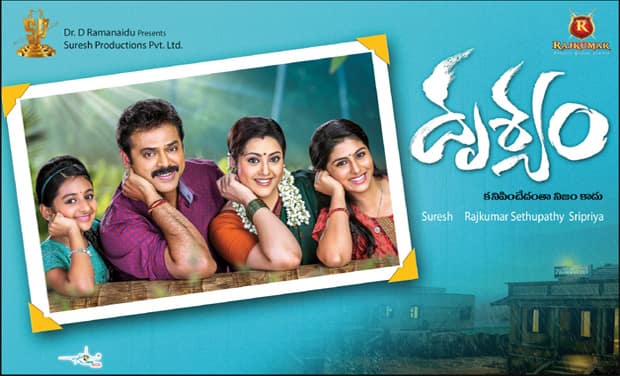 Fans have high expectations from Dagubatti Venkatesh's realistic family drama
There has been quite some buzz about Drishyam in past few days. The makers of Telugu flick have claimed that their movie is a path breaking realistic cinema being introduced for the very first time in Tollywood. A special online game was also designed on Facebook to promote this film.
As the movie buffs are gearing to catch Drishyam this weekend, we bring you five things to look forward in Drishyam:
Venkatesh had said in a recent interview that he had to break the star trappings to perform in Drishyam. Venkatesh is known for his mass hero antics and it would be interesting to see how Venki's common man act pans out!
Meena is making her comeback into Telugu cinema after two years. Known for natural acting, cine buffs are pinning high hopes on Meena to deliver an outstanding performance.
Since Drishyam is a remake of Malayalam blockbuster, comparisons are unavoidable. While Malayalam film struck a chord with audience with its realistic story telling, it would be intriguing to see if Telugu film too succeeds in connecting with fans.
Venkatesh-Mohanlal comparison is inevitable. Malayalam giant Mohanlal had been endlessly admired for his portrayal of a lovable husband and  father, who will go to any level to keep his family safe. Venkatesh is no lesser actor in Tollywood and is expected to be in top form. We will have to wait and watch if Venki can pull off a Mohanlal.
Nadhiya would be seen donning khaki playing a strict cop who holds a grudge against Venkatesh and his family. After a meaty role in Attarintinki Daredi, it would be worth seeing how Nadhiya plays a grey character on screen.