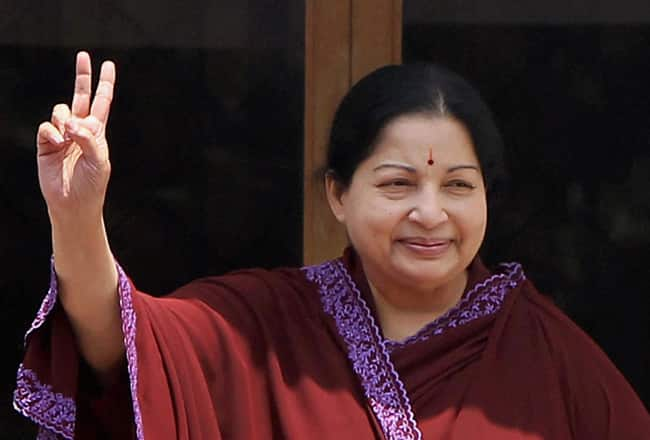 One of the earliest  divas of Tamil cinema ,Jayalalitha aka Amma's AIADMK leads in whopping 35 out of 37 seats
A  wave has taken over Tamil Nadu.No, not the Modi wave, but the Amma wave. Jayalalitha's AIADMK is turning out to be the clear winner in Tamil Nadu, with the former actor's party leading in  35 out of 37 seats. Yes, that's humongous!  
Jayalalitha, fondly called as Amma by her supporters, started her career as  a movie star down south. The politico was closely associated with the Tamil superstar of 60's MGR, as the duo shared a crackling chemistry as they romanced each other onscreen a number of times. When the AIADMK leader MGR died in 1987, Jaya self proclaimed herself to be the next heir for the coveted  party supremo post. Since then the star actor-politician has not looked back. The current CM of Tamil Nadu has decimated all her opposition with her Amma image.
What's intriguing is when the whole country seems to have caught the Modi mania, the people of Tamil Nadu are trusting on their favorite Amma. Infact the Amma wave is so strong that the BJP-PMK alliance has just managed to muster one seat. The PMK supremo Vijayakanth, who is also a yesteryear film icon fondly called as Captain, is facing the heat of Amma wave.
With the results coming in every minute and fates turning upside down in matter of minutes, one can certainly say Jayalalitha's Amma wave has dampened the Modi wave in Tamil Nadu.