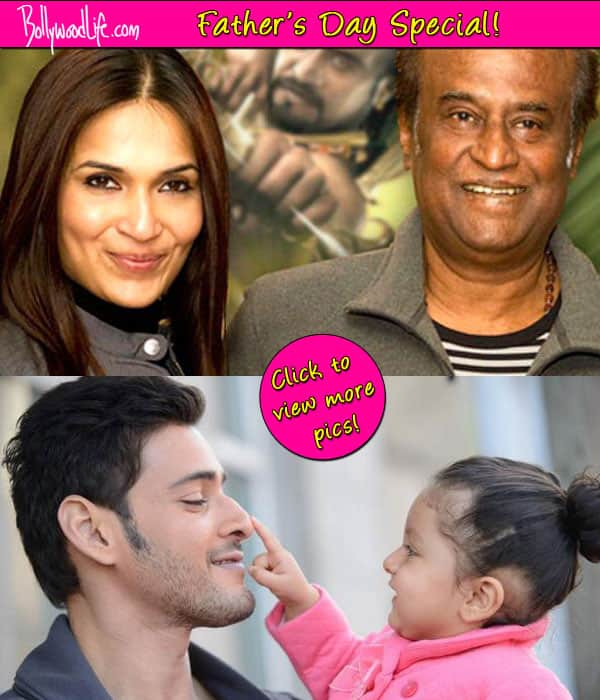 skip advertisement
 On the occasion of father's day, Bollywoodlife brings you a list of superstar Dad's of South Indian cinema who have gone  great lengths for the welfare of the their children
It is said that a father is the first hero of every child. Lots of children consider their fathers as superheroes and superstars. And indeed they are the superheroes and superstars. But today, on the occasion of Father's day, we will concentrate on the reel life superstars who are also real life superstar for their kids.
Rajinikanth
It is a well known fact that superstar Rajinikanth is perhaps the biggest star of India. The quintessential style icon of India who has quite a fan following around the globe is a very down to earth person in real life. Even after being such a big star, Rajinikanth has never forgotten his duties towards his kids. It is Rajini's humbleness which has played a great role in shaping the lives of her daughters Aishwarya and Soundarya Rajinikanth. Both the daughters of the 63 year old superstar are now happily married and have debuted as successful directors. Rajini recently took a great risk with photo motion capture technology film Kochadaiyaan just because he had confidence on his daughter Soundarya to pull it off. Now that's what we call a superstar father.
Akkineni Nageshwara Rao
The late legend Akkineni Nageshwara Rao aka ANR was one of the most celebrated stars of Tollywood. But the great actor never shied away from his paternal duties. It is said that late ANR has a huge influence in Akkineni Nagarjuna's career. The legend's last film Manam was such an emotional journey for Nagarjuna that he broke down while giving a speech in front of a huge crowd. An emotional Nagarjuna quoted, "ANR was not only a legendary actor, but was also a complete man. When I saw him serving my mother, I realised that he is a good husband. The kind of love and affection he had for all his grandchildren show me that he was a good grandfather. Despite his body getting week due to cancer, he was energetic. In the last months, he created a bonding in all the members of my family. I don't know how he did it, but he has given me that strength". Now we know from where Nagarjuna learned to be a good father.
V Ravichandran
The popular star of Kannada cinema V Ravichandran loving called as 'Crazy star' by his fans, is not only a terrific entertainer but also a terrific father. Ravichandran recently announced that he would be launching his son Manorajan into Sandalwood under his own prodcution and direction. The 'Crazy star' is leaving no stone unturned as he has roped his Premaloka co-star Juhi Chawla to play a role in Manoranjan's launch vehicle. The proud father wants his son's launch to be perfect so he has requested Kannada superstars Puneet Rajkumar, Sudeep and Darshan to play cameos in the movie. Now that is what we call a caring father who wants all the success for his child.
Mahesh Babu
The Aagadu star Mahesh Babu is one of the leading heroes of Telugu cinema, but did you know he is also a doting father. Mahesh Babu adores his kids –  Gautam Krishna and Sitara and spends time with them despite his hectic schedule. The Telugu superstar frequently shares his kids pics with his fans on Twitter. Mahesh was recently spotted saying that Gautham wanted to join the cine field and he will look for a good script for his son's debut. Little Gautham even accompanied his father Mahesh for 1: Nenokkadine audio launch last year. With Mahesh Babu's hand on Gautham, his future surely looks bright.
On the occasion of father's day, we also wish the new father Telugu star Allu Arjun a happy father's day. The Race Gurram star became a father in April 2014 and he would be celebrating his first father's day this year. Indeed these actors know how to be a superstar in reel as well as in real life.