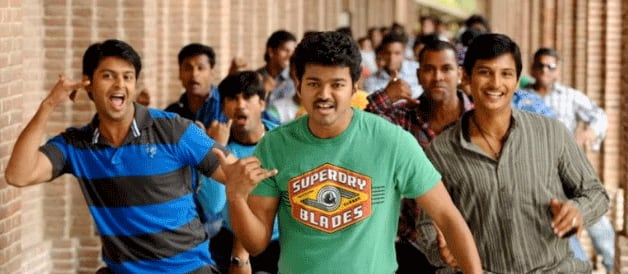 On the occasion of friendship day, Bollywoodlife has compiled the most melodious songs on  friendship in recent times
From Andha naal gnabakam in Uyirantha Manithan to Kaatu kuyilu in Thalapathy to Mustafa Mustafa in Kadhal Desam, there has never been dearth of friendship songs in Kollywood. While the above mentioned numbers are classics and are probably the most played  tracks on friendship day, songs from recent times have also glorified the beautiful relation called friendship.
While you get ready to celebrate this day with your gang of best buds, we bring you five Tamil songs from recent times which you can dedicate to your friends:

En frienda pola yaru machan – Nanban
One of the most famous films on friendship lately has to be Shankar's Nanban. This Tamil adaptation of Aamir Khan's blockbuster 3 Idiots has some mesmerising tunes, but no song can beat the emotional connect of En frienda pola yaru machan. With its moving lyrics, soulful singing and catchy tune, this song will remind you of that long lost friend with whom you are no more in touch. It will make you reach for the phone to revive the magical friendship which you guys had once.
Dosth bada dosth – Saroja
This song from Venkat Prabhu's comedy thriller might not be a heart warming song, but it is certainly a fun number to hear with your friends. The song, which is picturised on road trip of four friends, has peppy music from Yuvan Shankar Raja combined with care free lyrics. Dosth Bada Dosth is that song which you hear in volume while you are off to a long drive with your gang.
Natpukkulley oru – Chennai 600028
While Chennai 600028 was fun film, this song from Venkat Prabhu's film is a sad melodious number about rift in friendship. With amazing guitar riffs in the background to support the heart warming voice of Yuvan Shankar Raja, Natpukkulley Oru will take you down the memory lane, making you reminisce the ups and downs of your friendship with your BFF's.
Nalla nanban – Nanban
Another beautiful song from Nanban crooned with incredible panache by Ramakrishnan Murthy is a must watch song this friendship day. With minimal music and some mind blowing lyrics, this soul touching track will bring tears in your eyes and make you feel the importance of friendship in a person's life. The song which is placed at a very critical point in the film is sure to melt your heart.
Yele yele – Endrendrum Punnagai
Last year's superhit Endrendrum Punnagai, which  focused on the subject of friendship between three best friends,  has a memorable song Yele Yele Dosth Da, which will be new addition to the list of great friendship song over the years. The song is peppy and is little easy on the lyrics. It is the kind of song that will put  smile to your face, whenever you listen to it and not just on friendship day.
At the end of this list, we give a wonderful bonus track for our lovely Bollywoodlifers because we know the friendship day is incomplete without this college anthem from AR Rahman – Mustafa Mustafa. Have a blast with your friends this friendship day!