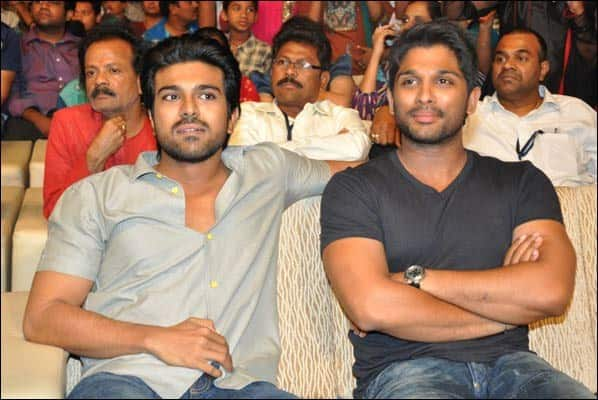 skip advertisement
While the cine world is abuzz 24×7 with rifts and cat-fights between stars, on the occasion of friendship day we turn our spot light on a few BFFs in the Southern industry
In a world where friends turn foes with slightest whiff of better opportunity, in an industry where there is cut throat competition, it calls for a celebration when two cinema stars bond forgetting all their egos and insecurities. This Friendship's Day we turn the spotlight on such lovely friendships in the South Indian film industry.
Bollywoodlife brings you 5 best friend duos  from Tollywood and Kollywood:
Allu Arjun and Ram Charan Teja
How they met: The  two dashing hunks are related to each other. Ram Charan and Allu Arjun are distant cousins.
How they bonded: Both the stars are childhood friends and it is this friendship that they carry till now. 
It is always heartening to see when two established heroes like Ram Charan and Allu Arjun  mingle. Though the two actors are distantly related, what's more is that the two are renowned in Tollywood for their friendship.  Race Gurram star played a cameo in Ram Charan's Yevadu this year. Both the stars often greet each other in public and always manage to squeeze out some time for chit chats.
Trisha and Nayantara
How they met: Both the damsels met at Filmfare Awards function many years ago.
How they bonded: Though there was a feeling of rivalry initially between the actresses, the two hit it off when they found out that they have mutual friends.
These two sizzling divas were rumoured to have started off on a wrong note, but  Kollywood bombshells Trisha and Nayantara proved everyone wrong with their long lasting friendship in the industry. Even though both the beauties are always stacked together in competitions, it is endearing that Trisha and Nayan don't allow the egos and comparisons to hamper their friendship. Both the stars bonded closely at Trisha's birthday party this year. They were again spotted giggling at audio launch of Amara Kaaviyam.
Vishal and Arya
How they met: Vishal and Arya met each other at the sets of director Bala's Avan Ivan
How they bonded: The two had a blast shooting for the film, pulling each others leg and teaming up to play pranks on the crew.
Despite the reports of rift between the Avan Ivan stars, Arya and Vishal have maintained that they are very good friends. The two stars never miss a chance to sing praises about each other. In an interview Vishal had confided that he would do anything for Arya. Now that's what we call true BFF's.
Shruti Haasan and Tamannaah
How they met: The two Tollywood babes met each other while filming for Mahesh Babu's Aagadu where Tamanaah is the heroine and Shruti Haasan is doing an item number.
How they bonded: The duo of ravishing beauties stunned everyone when they got along like house on fire in recently concluded Filmfare Awards South.
If we can brush aside the ridiculous rumour that the two milky white divas were engaged in a lip lock, we would find the new found friendship between Shruti Haasan and Tamannaah cute. Both hotties bonded, gossiping and posing for pictures together at the recently concluded Filmfare South Awards 2013.  Infact, it is interesting to note that Shruti Haasan followed her friend Tamannaah's foot steps in grooving for an item number in Mahesh Babu's Aagadu.
Simbu and Santhanam
How they met: It was Simbu who introduced funny man Santhanam with his 2004 film Manmadhan
How they bonded: The duo starred in many films later on and their on screen camaraderie started reflecting in their lives too.
It is a well known fact that this hilarious duo of actor-comedian are actually close friends in real life  too. After giving some rib tickling scenes in Vaanam and Silambattam, Simbu and Santhanam have developed a deep rooted friendship for each other. Simbu even appeared for a cameo for free in Santhanam's Kanna Laddu Thinna Aasaiya.  The deadly combo has teamed up again for Simbu's next flick Vaalu.
These were a few hot friendships on our list. Let us know which duo is your favourite. Happy Friendship's Day!!