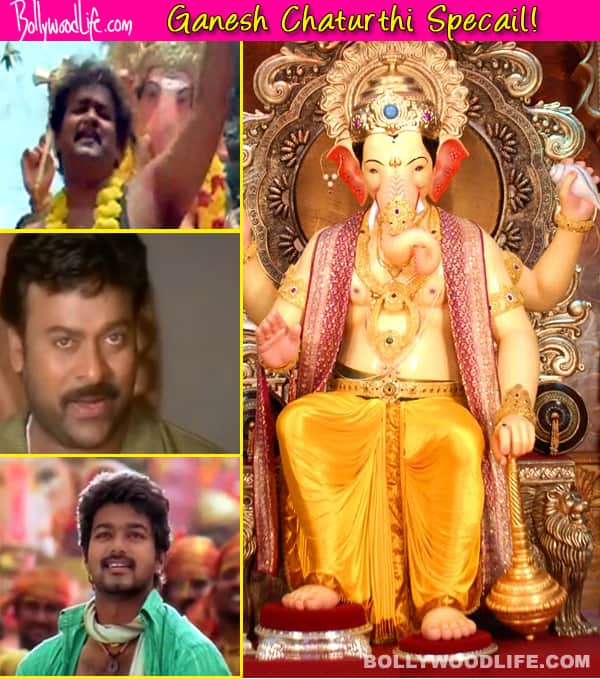 As the nation is immersed in the Ganesh Utsav festivities, we bring you 5 songs to rock this auspicious day
Ganesh Chaturthi is here and millions are gearing up to welcome the Lord Ganesha to their humble homes. As the nation is gripped in festive mood and 'Ganpathy Bappa Morya' chants float in the air, we at Bollywoodlife decided to make this Ganesh Utsav extra special with big stars wishing you a pleasant festival. We all know how important Ganesh Chaturthi is for Bollywood and over the years, there have been quite a few memorable Hindi songs in praise of Lord Ganesha. But did you know that South Indian films are not far behind from Bollywood when it comes to expressing their devotion to Lord Ganesha?
We have compiled a list of five songs for you to sit back and enjoy during this Ganpathy season:
Hey Rama Rama – Villu
The first song in the list is Illaya Thalapathy Vijay's introduction song from Prabhu Dheva directorial Villu. The song is completely picturised during the Ganesh Chaturthi festivities with idols of Ganesha, both big and small, displayed in the song. Though the song is not in praise of Ganpathy, the song shot amongst hundreds of Ganesha idols is nothing short of a visual treat.
 Maha Ganapathim – Indira
Chiranjeevi's blockbuster flick Indira has a mesmerisingly melodious devotional track on Ganesha. Crooned by the evergreen singer SP Balasubrahmanyam, the song features Chiranajeevi singing and bowing his head in reverence to the great Lord Ganesha, as he takes the stage by storm to help his sister in a singing comeptition.
Raja Maharaja Song – Ganesh
The song Raja Maharaja from the movie Ganesh starring Ram and Kajal Aggarwal is next on our list. The song features a big idol of Lord Ganesha, as our hero grooves to the catchy song, conveying his feelings to Ganpathy. So if you are looking for a perfect dance number to enjoy this Ganesh Chaturthi, Raja Maharaja is the one.
Maha Ganapathi – Amarkalam
The next song is from Thala Ajith Kumar's 1999 flick Amarkalam. The song Maha Ganapathi picturised on terrific dancer Lawrence, talks about the state of the society and how the devotion towards God is becoming redundant among the masses. The song is peppy and enjoyable and has a huge Ganesha idol, which even moves its hand to shower blessings. We only get a glimpse of Ajith in the song.
Ganapathi Bappa Moriya – Abhimanyu
This song from Mohanlal's 1991 movie, Abhimanyu, is a perfect Ganapathy Visarjan song. The song picturised on the complete actor Mohanlal features Laletan swinging to this devotional tune, as the crowd gathers to immerse the gigantic idol into the sea. The song has very meaningful lyrics, infact the first few lines are in Hindi.
So if you are bored with the same set of Hindi songs that are played during the Ganesha Utsav every year, celebrate this Ganesh Utsav with these unique numbers, while welcoming Ganapathy Bappa to your homes.