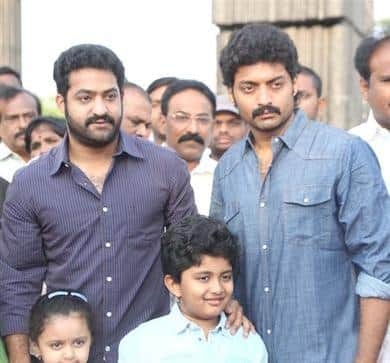 We hear that Rabhasa star Jr NTR is trying to mend things with his family who are miffed at the star's indifferent attitude towards family politics
It came off as a pleasant surprise when Jr NTR and his step brother Kalayan Ram walked in together at the NTR ghat to pay  respects to their  late grandfather NT Rama Rao on the occasion of his 91st birthday. The brothers who were at loggerheads for quite some time seemed to have got over the bitterness as this was the second time in last days that the two were spotted together.
Born in a family where cinema and politics go hand in hand, Jr NTR has not been keen to follow politics. The Brindavanam star had even missed the wedding ceremony of Balakrishna's daughter citing work commitments. Also Jr NTR was not available for campaigning for his uncle Balakrishna aka Balayya during the recently concluded Lok  Sabha  elections. Balakrishna clearly miffed by Jr NTR's absence made a scathing comment which gave an impression that a storm was brewing in the NTR family.
One cannot blame Jr NTR entirely as the star had met a serious car accident in 2009 while campaigning for his grandfather's political party TDP. May be Jr NTR has taken the accident as bad omen and decided to stay away from political alleyway.
With the wide rumours of rift in the NTR family, we wonder if it is just another PR exercise to suggest all is hunky dory in the Nandamuri clan. Or has Jr NTR accepted his fault in staying away from family politics for so long and is trying to make amends? One might say Jr NTR's political disinterest should not be considered as a crime. But being born in NT Rama Rao's family and neglecting politics is considered no less than a sin.