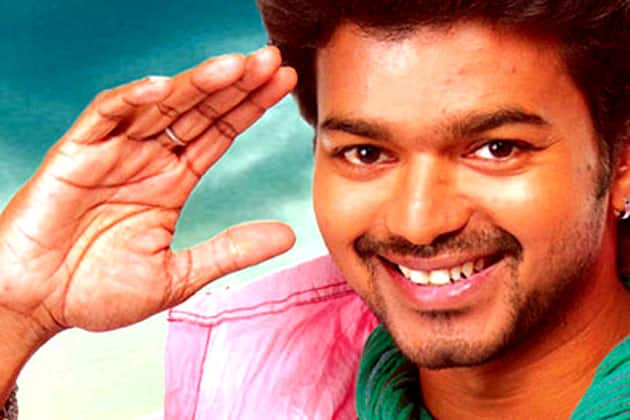 As the beloved supertar of Kollywood turns 41, Bollywoodlife brings you 5 songs which does justice to Vijay's extraordinary dancing skills
Born on June 22 1974, to producer-director SA Chandrasekhar and playback singer Shoba Chandrasekhar, Vijay has always had keen interest in films. Many don't know that Vijay's favourite childhood hero was none other than Captain Vijayakanth. Infact he had worked as child artist in many Vijayakanth movies.
Vijay, who dropped out of Visual Communication course at Loyala College, Chennai, wanted to be an actor against his parents wishes. This led the star to run from home and the family had to bow to Vijay's will. He made his debut as a lead in 1992 film Naalaya Theerupu. In his initial years he was heavily criticised for his plain looks, but Illaya Thalapathy proved them wrong by giving out superhits in the 90's like Poove Unnakaga, Kadhalukku Mariyadhai, Thulladha Manamum Thullum, Minsara Kanna,Kushi,Badri,Bhagavathi and so on. Ghilli was Illaya Thalapathy Vijay's best film till date as it on went on become a blockbuster hit running for record 200 days in theatres in Tamil Nadu.
In the recent years, his notable works have been Vettaikaran,Nanban, Kaththi and Thuppakki. Without taking more time, we bring you five best dance songs  of Illaya Thalapathy Vijay:
Ellappugazhum from Azhagiya Tamil Magan
When you think about Vijay's dance moves, the first song which comes to our mind his energetic inspiring number Ellappugazhum from ATM – Azhagiya Tamil Magan. Incidentally, the words from the song "Ellappugazhum iraivan ke" are the once uttered by Mozart of Madras AR Rahman every time he receives an award. To the tunes of Rahman, Vijay's awe inspiring dance moves will make you stand up from your seat pumping your fist with new found energy.
Appadi podu from Ghilli
Dancing is not just rhythmic movement of  body but also a way of expression. This song  stands testament to Vijay's stunning dance moves but also his vivid facial expressions.The song featuring Vijay and Trisha went to become a monumental hit due to the foot tapping music and amazing chemistry which the duo shared in the song.
Daddy mummy from Villu
This chart buster from Villu showcases Vijay's flexibility on the dance floors proving why he is considered one of the best dancers of South Indian film industry. With quick staggering dance moves and unmatched energy, Vijay manages to captivate the viewers with his dancing abilities.
Pallanadhu Kuruvi from Kuruvi
An another Vijay-Trisha song which made to our list is Pallanadhu from Kuruvi. Illaya Thalapathy displays his magic with legs as grooves to the song from terrific dance step to another. 
Naa adicha saravedi from Sura
Vijay's Sura may have bombed at the box office, but his dancing acumen is unquestionable in the film. Naan adicha saravedi song from Sura shows Vijay's atheltic body movement doing gravity defying steps.
With Chibu Devan's much hyped Puli set to release, Vijay seems to be heading in right direction of super stardom. Bollywoodlife wishes Illaya Thalapathy Vijay, a very happy birthday and hopes he continues to dance his way to the hearts of public.