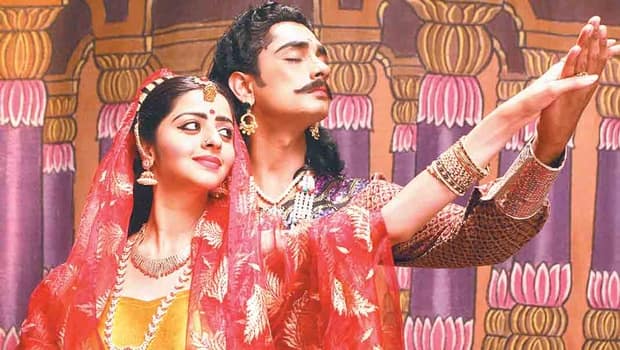 The teaser of Vasanthabalan's Kaaviya Thalaivan embarks us on a journey into the artistic corridors of theatres in a period where dramas where the staple diet for people's entertainment
Remember the times when theatres of performing arts had people queuing in front it. Those good old days when there was no TV or internet, and theatrical plays were the sole source of entertainment. At one point, theatre groups were the talk of the town and theatre artists were treated as movie stars. Vasanthabalan's Kaaviya Thalaivan is based on such a story of performing arts from the corridors of Madurai's theatrical scene in '20s.
The 32 second teaser of Kaaviya Thalaivan is out in public forum much to the delight of fans. The film starring Siddharth, Prithviraj and Vedhicka has music scored by two time Oscar winner AR Rahman. The much awaited flick has already garnered a lot of attention thanks to its different subject. Bollywoodlife brings you five reasons why one should check out Kaaviya Thalaivan teaser:
The teaser opens up with Siddharth,Prithviraj and other theatre artists lined up in rows, inviting the people to come witness their performances. The opening sequence itself is such an eye catcher as the actors charm us with their singing invite.
AR Rahman's  music along with mesmerising vocals is a honey for the ears. The musical genius renders a classical masterpiece for the teaser which will be enjoyed by one and all. It is to be noted that AR Rahaman has composed a whopping 20 songs for Kaaviya Thalaivan. We can't wait for the film's audio release to hear the genius at his best.
Nirav Shah's cinematography will leave you in awe at the veteran lens man's art with the camera. The stunning visuals of Kaaviya Thalaivan transport you to the narrow galleries of theatres.  The visuals combined with music will leave you overwhelmed.
We get a glimpse of the lead actor's performances and one can say they have not disappointed. All the three leads Siddharth, Prithviraj and Vedhicka seem to have given whole hearted performances. The teaser displays their theatrical capabilities for the world to see.
One should give credit to director Vasanthabalan to have brought out the different flavours of our long forgotten yet rich heritage on such a grand scale.
A film's teaser should be such that it grabs the audience attention, attracting the masses to throng to the cinemas. Well, the Kaaviya Thalaivan teaser does just that!
Watch the teaser below!