Kamal Haasan meets newbie director Harshavardhan
India Syndicate
Last Updated: 2.39 PM IST 07.04.2012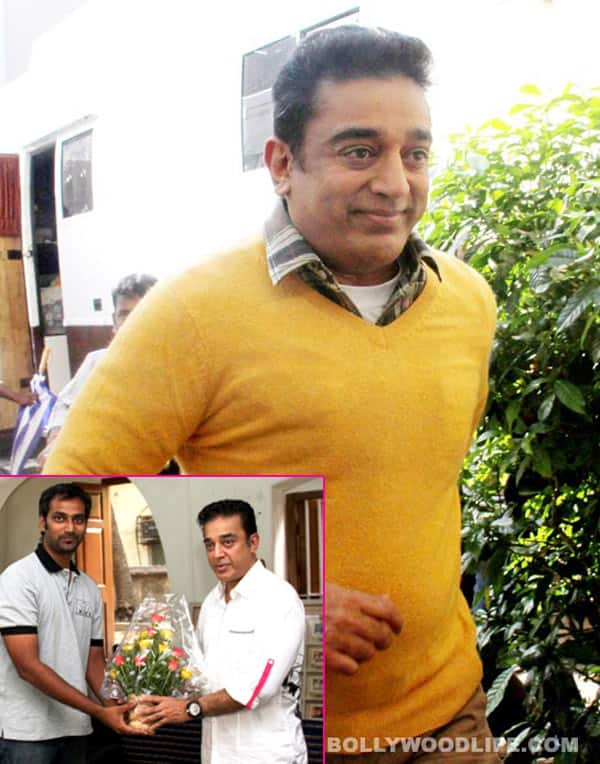 Sign up for the BL newsletter!
Young filmmaker Harshavardhan, who is ready with his maiden directorial venture Aachariyangal says that Kamal Haasan inspired him
In his long and admirable career, Kamal Haasan has been an inspiration to many. Recently, Harshavardhan and his team met the senior actor to show him the trailer of the film, Aachariyangal . "Rajkamal Films International & IIT Madras conducted a screen writing workshop three years ago and I was one of the 250 lucky participants. Kamal sir's speech at the workshop was truly inspiring. From that day on, I started to believe that new directors like me also should share the responsibility of taking Tamil cinema to the next level," says Harshavardhan. He adds that Aachariyangal has a novel script and they decided not to have songs in this racy thriller. "I derived the courage for that only from Kamal Haasan and desperately wanted to meet him to show my movie's trailer and to get his blessings."
"Kamal Sir agreed to meet me, after hearing that I had participated in his script-writing workshop as a student. My film's hero Taman Kumar, cinematographer Deepak and I met Kamal Sir to show him my trailer. Despite his busy schedule he spent a lot of time with us discussing our film and the concept. He liked the trailer very much," says a very happy Harshavardhan.
SEE MORE:
VISHWAROOPAM stills: Kamal Haasan sports a new look
Kamal Haasan to make Hollywood debut with 'The Lord of the Rings' producer Barrie Osborne
First Published: 2.39 PM IST 07.04.2012