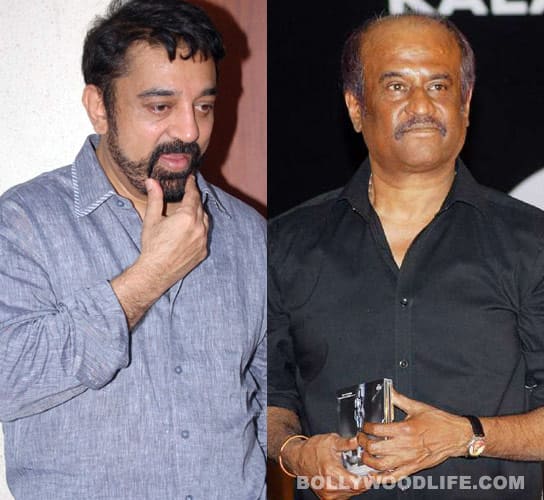 The legendary rivals have shared screen space during their early days in the film industry. And now Kamal Haasan wants to revive their relationship by casting Rajinikanth in his film Marudhanayagam
Kamal Haasan's long shelved movie Marudhanayagam is up for resurgence and the star actor wishes to cast his contemporary and rival Rajinikanth in a pivotal role. The reason why we can say that it's not a completely a casting coup is because both actors have starred together in about 10 films before they became superstars.
Marudhanayagam is the story of the 18th century warrior Mohammed Yusuf Khan which will be portrayed by Kamal. The film which had originally started in 1997 was shelved mainly due to lack of finance. Now the Dasavathaaram actor claims the film will have a budget of Rs 150 crore and will be released simultaneously in Tamil, Hindi, English and Telugu. Kamal expressed his desire to work with Rajinikanth, but whether the Kochadaiyaan actor agree or not, remains to be seen. While we think it will be a refreshing change to see the two actors together after so long, we'd like to know what you think. Should Rajinikanth accept Kamal Haasan's offer or not? Tell us.