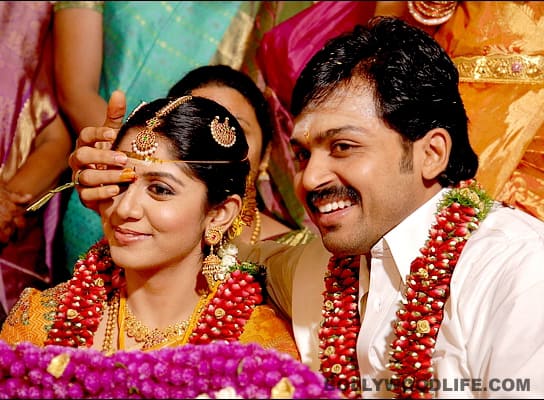 Both wedded on the same day in different cities and invitees were unsure which ceremony to attend
Kollywood celebrities found themselves in a Catch-22 situation on June 3. Director Selvaraghavan and actor Karthi had their wedding ceremonies on the same day and had also naturally invited the same K-towners. Not much of a problem, except that the two weddings were in different cities. Selva married Gitanjali in a glittering ceremony in Chennai on the same day Karthi exchanged marriage vows with Janani in Coimbatore. Two high-profile weddings on the same day in two different cities put several Kollywood celebrities in a spot. As a result, many of those who had been invited for both the weddings had to choose between attending either one.
Thankfully, Selvaraghavan and Karthi will be hosting their wedding receptions on different dates. Mani Ratnam and wife Suhasini, actor Chinni Jayanth and educationist Mrs YG Parthasarathy graced Selvaraghavan's wedding. Karthi's wedding in Coimbatore was equally well-attended with several dignitaries including directors Bala and KS Ravikumar turning up to bless the couple. The grooms' brothers in both weddings played an important role on the auspicious occasion. Suriya and wife Jyotika received the guests at Karthi's wedding in Coimbatore, while Dhanush and Aishwarya extended a warm welcome to guests at Selvaraghavan's marriage in Chennai.