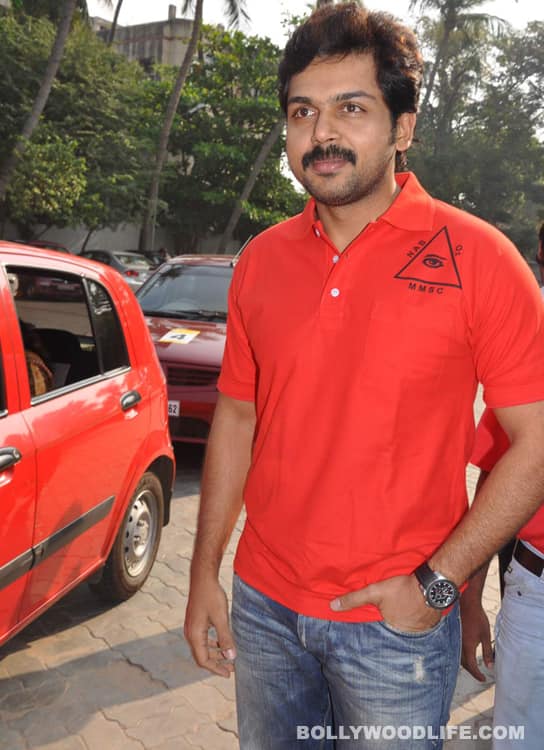 The Kollywood actor has signed a project with the Siva Manasula Sakthi director
Karthi Sivakumar is one of the top heroes of Kollywood right now. He is shooting for two films simultaneously – Alex Pandian (directed by Suraaj) and Saguni (helmed by newcomer Shankar Dayal). But that hasn't stopped him from taking on a third project. Karthi will soon begin work on a fresh project which, we hear, is to be directed by Rajesh of Siva Manasula Sakthi and Boss Engira Baskaran fame. "It will be a typical Rajesh kind of film, a romantic entertainer loaded with comedy. I am a big fan of the director's earlier movies and thrilled about working with him," says the hero.
Apart from Kollywood, Karthi is viewed as a dependable hero in neighbouring Tollywood as well. Almost all his Tamil films that were dubbed in Telugu have managed to draw crowds to the theatres. They include Yuganiki Okkadu, Aawara, Naa Peru Shiva and Vikramarkudu. Speaking on the success of his Telugu films, Karthi said, "I am indebted to the audience of Andhra Pradesh… The heroes of Telugu film industry are very friendly. They are supportive of my movies and they don't consider me as competition. This is a healthy trend for sure and Hyderabad has become a second home for me now." No wonder then that Saguni is being shot simultaneously in Tamil and Telugu. Here's one hero who knows how to rake in the moolah without fuss in two different states.