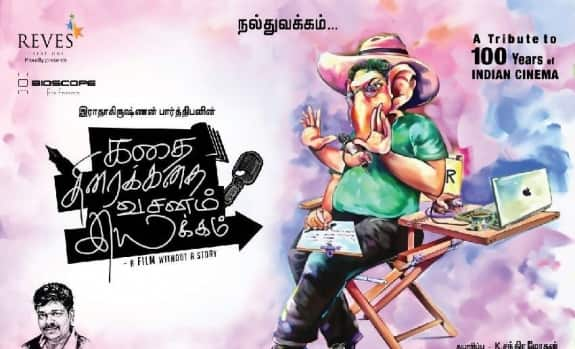 The actor-director R Parthiepan's Kathai Thirakathai Vasanam Iyakkam underlines the dearth of ideas in modern day cinema in a unique tongue-in-cheek kinda way
The much awaited trailer of R Parthiepan's Kathai Thiraikathai Vasanam Iyakkam is out for the world to see. The actor turned director well known for his comic timing seems to have made a film without a story. Don't believe us? That is what the tag line of Kathai Thirakathai Vasanam Iyakkam tells us- A film without a story.
Kathai Thirakathai Vasanam Iyakkam has a bunch of new comers like Santhosh,Akhila Kishore,Dinesh and Lallu in lead roles ably supported by brilliant Thambi Ramaiah. The trailer depicts a struggling group of aspiring filmmakers trying to pitch a script and make a movie with no definite story, but just recycling the existing blockbusters. The film seems to take digs on modern day cinema which churns out one stylised flicks after another with apparently little or no story line.
If you are a star buff, a bunch of newcomers frolicking around with cameras,pen and paper may not excite you. But be rest assured that the ensemble cast of starry cameos will surely intrigue you to sit up and take notice. With some interesting cameos from series of  established actors of the likes of Vishal,Aarya,Amala Paul,Tapsee Pannu,Vijay Sethupathy,Cheran and Prakash Raj, Partheipan seems to have created a charming mixture of fresh faces and bright stars with a pinch of rib tickling satirical comedy.
The trailer takes you on a joy ride as the characters take you through the process of film making with plenty of inside jokes on script pitching phase.  A special mention to Thambi Ramaiah  who seems to be the show stealer of the film. In short, Partheipan's Kathai Thirakathai Vasanam  Iyakkam trailer will make you grin from ear to ear with its cheeky take on film making business.
Watch the interesting trailer below!