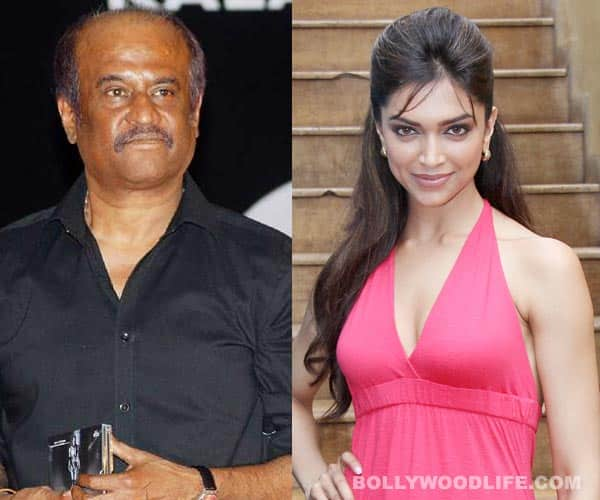 The superstar was reportedly uncomfortable shooting a passionate song with the young, sexy actor for his 3D film
Older heroes romancing young nubile nymphets is the norm in south film industries. When Rajinikanth romanced Aishwarya Rai Bachchan in Endhiran, it didn't raise any eyebrows down south. Nor was there even a flutter when it was announced that the 26-year-old Deepika Padukone has been signed opposite the 62-year-old actor for Kochadaiyaan and Rana. However, the buzz is that Rajini isn't very comfortable with this arrangement and expressed his reservations to his daughter and Kochadaiyaan director Soundarya.
We heard that Rajini felt the beginnings of discomfort when he had to shoot a romantic song with Deepika. The song has been composed by AR Rahman and Saroj Khan has choreographed it. Naturally, it had some sizzling steaming moments. A li'l birdie present on the sets chirped that Rajinikanth was not comfortable getting cosy with his young co-star. He was feeling extremely awkward and that showed in his performance. Rajini then asked Soundarya to tone down the sizzle quotient a bit. That's when Dippy stepped in. She eased his discomfort and convinced him to shed his inhibitions. The result is a passionate number that is bound to set pulses racing.
Kochadaiyaan is a 3D film and Rajini's first release after the superhit Endhiran. If that wasn't enough reason for fans to eagerly wait for the film, now they have one more. Those in the know whisper that Rajini and Dippy's chemistry is truly sizzling. We can't wait to see their magic on screen!
Read more on Kochadaiyaan:
Mani Ratnam blesses 'Kochadaiyaan' director's daughter on wedding
Rajinikanth's 'Kochadaiyaan' to release before Diwali