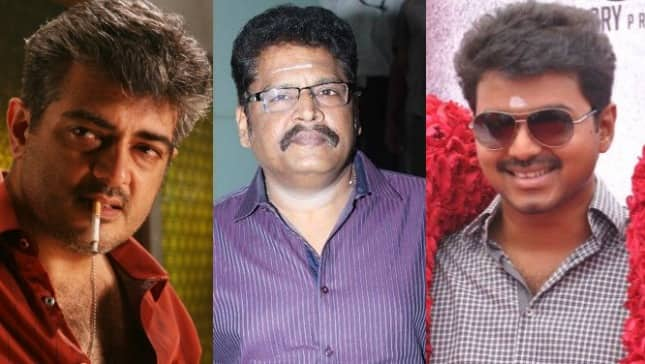 An impersonator of Lingaa director had tweeted Ajith to be next superstar over Vijay
Thala Ajith and Illaya Thalapathy Vijay may maintain that they are good friends, but rivalry between Ajith and Vijay fans has been going on for ages and has almost become legendary. The fans of the stars have always been in loggerheads and they never miss a chance to take a dig on their rival camp's star. Recently a row broke when someone pretending to be director KS Ravikumar tweeted from a fake account, declaring Ajith as the next superstar.
While Mankatha star's fan relished it, Vijay fans were upset with the menacing tweet. KS Ravikumar, who is not even on twitter, sensed he is being dragged into an unwanted controversy and issued a public clarification through his official Facebook account.
Lingaa director said," Currently faced with quite a concern since few days. Of in numerous fake profiles in social media, one in particular has been posing as me and tweeting & making statements that has caused quite a flutter.I don't know why I've been imitated. Sure, I have a reasonably successful account here on Facebook. I'm well known and respected in the industry and I've even been many a times honored by being asked to give an opinion on various issues and situations. But I'm certainly not the one who can decide on the next superstar. In fact I am no one to choose or decide who is the next super star other than fans who follow their respective idols. Who am I to judge Vijay or Ajith. I have always enjoyed and appreciated their work but I cannot comment anything especially about who the next Super Star is. "
Few days back, an another fight erupted between Thala and Thalapathy fans as a popular Tamil magazine had stated Vijay to be the next superstar. We wonder if the miscreant was an Ajith fan posing as ace director trying to pass off his opinion as KSR's.