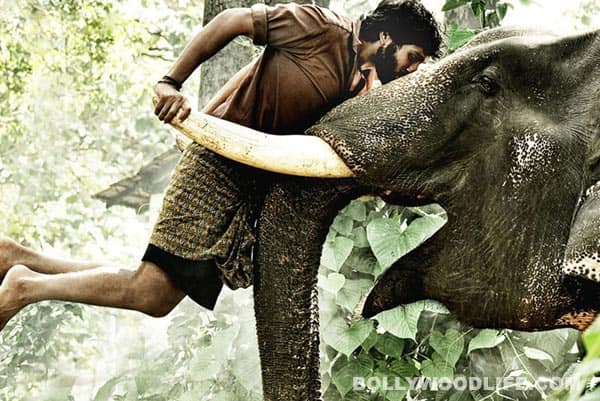 Being the grandson of a legend can weigh down any film personality. However, Vikram Prabhu, son of veteran Prabhu and grandson of thespian Sivaji Ganesan, doesn't seem to have been affected too much by the tag and has shown glimpses of his abilities in Kumki directed by Prabhu Solomon
The director, who counts the acclaimed Mynaa among his offerings, has picked another sentiment-based subject for Kumki, but with a difference.  He has chosen the relationship between a man (mahout) and his elephant and woven a tale around it. And, he seems to have done quite a bit of homework before making the movie. And, it shows on screen.
Apart from Prabhu Solomon, the hero (Vikram Prabhu) has also worked hard and looks convincing on screen. The presence of the multi-faceted Thambi Ramaiah in the cast is crucial to the movie's fortune and he does a good job. The director, on his part, has attempted something new in Tamil cinema – talk about the lives of a mahout and explore the ways of elephant herds in forests. The rural setting and superb cinematography by Sukumar and Imman's music are highlights of the film.
Bomman (Vikram Prabhu) is a mahout, who earns his livelihood by making his pet elephant Manickam perform in temples and film shoots. He is assisted by his uncle (Thambi Ramaiah), a drunkard and wastrel, in his efforts. Later, they move to a village where they end up having to protect the people from a herd of wild elephants. However, Manickam is not a trained kumki (an elephant which can stop or handle attacks by wild elephants) and Bomman is well aware of that. How he handles the situation is the rest of the movie. Also, thrown in is some romance between the hero and Alli (Lakshmi Menon), daughter of the village chieftain.
Music by Imman with a few wonderful numbers make Kumki a pretty enjoyable journey. For a start, Vikram Prabhu has done a job worth praising and he does make an impact as the film gathers steam. The heroine does well in the limited opportunity she gets while Thambi Ramaiah is the scene-stealer as he emerges with flying colours.
Prabhu Solomon has come up with a neat entertainer, though the slow pace hampers proceedings at some places.