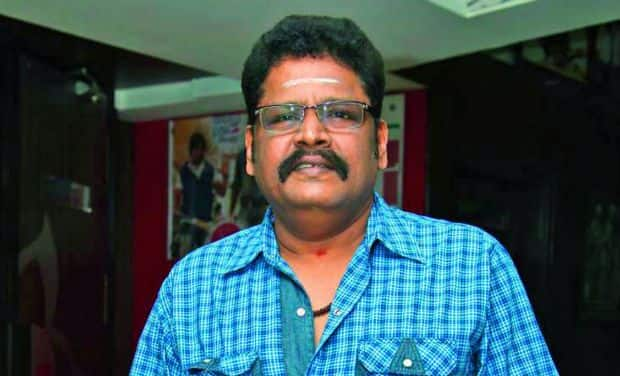 KS Ravikumar, Tamil cinema's hit machine celebrates his birthday today
Born on May 30, 1957, iconic story-teller, KS Ravikumar turns 57 today. One of the biggest mainstream filmmakers of our times Ravikumar, after assisting veteran director Bharati Raja started his career as  a director with Puriyaadha Pudhir in 1990.
Known for unique portrayal of his heroes, KS never settled down to making just one kind of cinema. A look at his filmography as a director, and one can see that he has indeed explored almost all genres and subjects. The dialogues and the word play has been specialty of KS Ravikumar movie, who seems to have a strong hold on audience's expectations. While the ace director is busy  shooting for Rajinikanth's Lingaa, Bollywoodlife brings you  five best films of this prolific filmmaker.
Avvai Shanmugi
The first Kollywood film that brought together the deadly combo of Kamal Haasan-KS Ravikumar, who went on to make big money spinners. Avvai Shanmugi, a hilarious comedy saw Kamal Haasan don an old woman's avatar. The film went on to be a huge hit and was remade in Hindi as Chachi 420. Anyone who sees the film can easily identify that the director KS Ravikumar has a flair for word play, comedy and his brilliant execution of a confusing story was loved by one and all.
Muthu
Before teaming up with Kamal Haasan, KS Ravikumar joined forces with Rajinikanth for first time to make a block buster hit Muthu. The film has such a special place in the hearts of people, that even after almost two decades people do not miss the movie every time it's telecast on TV.  It was an important film for Rajinikanth, as it established him as the superstar of Tamil cinema. The way KS Ravikumar utilised the iconic style of Rajinikanth to create a box office success was commendable. The song Oruvan Oruvan Mudalali and Rajinikanth-Meena jodi made the audience go gaga over Muthu.
Panchathantiram 
Panchathantiram, is perhaps one of the best comedy films of all time. Starring Kamal Haasan in lead role, the film follows the misadventures of five friends. The comic timing of each and every actor is so precise, that you cannot stop laughing. Like Avvai Shanmugi, the director created such a splendid web of language word play and situational comedy that you just can't have enough of this KS Ravikumar masterpiece.
Padayappa
Rajini-Ravikumar team came together after Muthu and delivered a colossal hit. Padayappa is still fresh in people's minds  for Rajini's unmatched style, Ramya Krishnan's most memorable role as villain and for some wonderful tunes by AR Rahman. But what people tend to forget is that one of the biggest reason for Padayappa's success was a director who knew how to control his resources and bring out memorable performances from his cast.
Dasavathaaram
Dasavathaaram was truly a magnum opus film for Kamal Haasan. Haasan portrayed 10 different characters much to the amusement of his fans. It was the subtle direction of KS Ravikumar along with stellar performance of veteran actor Kamal Haasan that made Dasavathaaram the biggest money grosser of its time.
If one has to look back at KS Ravikumar's career, we think his partnership with Kollywood stalwarts Rajinikanth and Kamal Haasan brought out the best out of him. Having worked in the cine industry for more than 25 years now, one can't put a value to his contributions to the industry. And now, Lingaa brings the reputed Rajini-Ravikumar combination back together for the third time.We hope the director strikes gold yet again. Bollywoodlife wishes the ace filmmaker a very happy birthday!