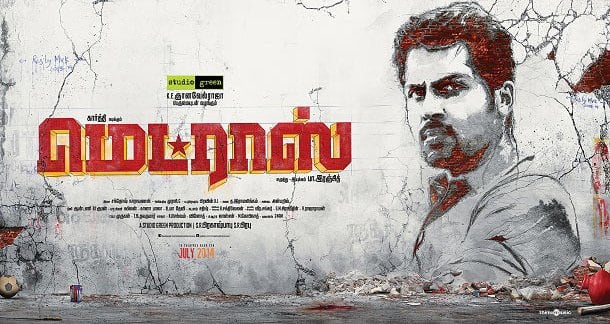 Siruthai star Karthi is back with Madras, a crime-drama based on inhabitants of North Chennai
After successive box office duds like Alex Pandiyan and Azahagu Raja, Suriya's younger brother Karthi is back with a bang in Madras. The trailer of Madras starring Karthi and Catherine Tresa was released yesterday at a function in Chennai. Directed by Ranjith, Madras is said to be a crime drama based on a few wastrels of North Chennai.
The trailer gives a strong flavour of Northern Chennai with its narrow streets, modest looking two-storey flats and of course the unmistakable Chennai slang. Bollywoodlife brings you 3 reasons to watch the trailer of Karthi's latest :
Karthi has given his all to the film and has really mastered the colloquial Madras slang. The trailer seems to be riding on the star power of Karthi who doesn't disappoint in any of the scenes. Be it comedy, be it romance, be it action- Karthi pulls off the act in style. But the star really shines in comic bits in the trailer.
The trailer gives us a fairly interesting narrator in the form of a dirty scoundrel who amuses us with his exceptional Chennai Tamil.
Full marks to the director Ranjith for getting the look and feel of North Chennai right – be it dialogues,costumes, the distinct Chennai slang, the white collared local politicos, the long haired stud wearing gundas, the flood light football matches etc.
In short, the trailer of Karthi's Madras succeeds in looking authentic and reminds of us of his earlier hit Naan Mahan Alla.
Watch trailer below!