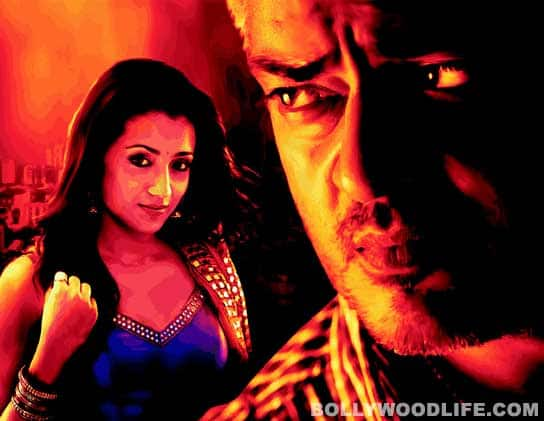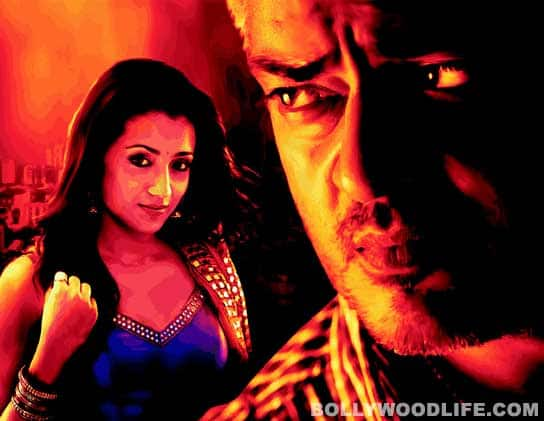 The film has everything that Ajith fans would want and some more
Every actor would love to do an anti-hero role at least once in their career. From Rajinikanth to Silambarasan, there are no exceptions to this craving. Mankatha is Ajith's 50th film and the actor unleashed his charm doing a baddie in Vaali repeats the act. Director Venkat Prabhu, known for doing light-hearted films, takes up an action-packed thriller in the company of the mass hero. If cricket was the basic crux of Venkat Prabhu's Chennai 28 (his debut film as a director), Mankatha is also based on the willow game, albeit with a difference. The spotlight here is not on the field but on betting, money and the men behind it.
The actor who failed to cheer his fans in his previous flick Aasal, has managed to satisfy the appetite of his fans in Mankatha. Ajith slips into the role of the baddie whom we love to hate with élan, hogging the limelight with his charismatic screen presence. While the first half is more an extension of the director's earlier films like Chennai 28 and Saroja, the later half is dead serious, action-packed and racy. Vinayak Mahadevan (Ajith) is a suspended cop in Maharashtra police. He falls in love with Sanjana (Trisha), daughter of an influential local goon Arumuga Chettiyar (Jayaprakash). Vinayak is a man behind money. He has least respect for values in life, wants to become the richest. A suicide by a police officer investigating the betting mafia involved in Indian Premier League (IPL) cricket hogs headlines. Assistant Commissioner of Police Prithvi (Arjun) takes charge to free the sport from betting. Meanwhile, Arumuga Chettiyar, who comes to know that Rs 500 crore betting money for the finals of the IPL is coming to Mumbai, uses his underworld links to route it through his recreation centre.
Sumanth (Vaibhav) is Arumuga Chettiyar's protégé. He hatches a conspiracy to take away the money in the company of his friends – a police officer Ganesh (Ashwin), Mahanth (Mahanth), who runs a bar, and Prem (Premgi Amaran), an IIT graduate. When he comes to know of their plans, Vinayak steps in. He promises to help the team members and divide the wealth between them. They even succeed in taking away the money and decide to wait for an appropriate time to share the fortune. In the meantime, a shocked Arumuga Chettiyar begins his hunt for the treasure though every move of him is being closely followed by Prithvi. The attention then shifts to Vinayak and the battlelines are redrawn – it is nowVinayak vs Prithvi.
After a long gap, Ajith sheds the stereotype tag. Arjun plays the Action King role to perfection. Trisha, Andrea, Anjali and Lakshmi Rai play minuscule roles. Vaibhav and Jayaprakash leave their mark on screen. Yuvan Shankar Raja's music is passable with a couple of racy tunes. Sakthi Saravanan's cinematography is a major strength. Venkat Prabhu seems to have played to Ajith's strength in Mankatha. The actor's mass appeal has given the director the liberty to add more of action and punch lines. On the flip side, the first half is too lengthy and long sequences mar the flow. All said, Ajith fans will love this film.