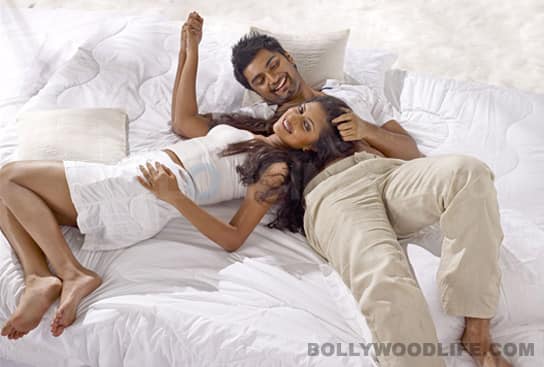 Pre-release Elred Kumar's Muppozhudhum Un Karpanaigal was marketed as a romantic thriller. Unfortunately it has turned out to be neither romantic nor thrilling
The movie opens with an unbelievable action sequence before going into the mode of a sweet love story. Beginning is good but the film looses its grip as it moves ahead. There are some twists and unexpected turns but they are not good enough to engage the viewers. After some ups and downs the film sounds predictable and disappoints. While the film claimed to be a romantic thriller, it offers none of it.Ram (Atharva) is an IT engineer in Chennai. He spends his weekends with his girlfriend Charu (Amala) in Bangalore. They share a unique bonding. Now, Lata (Amala), the new CEO of Ram's company, returns from the US. With her marriage set to happen in a couple of weeks, she meets Ram and gets the shock of her life. She claims that she knows him well, but Ram treats her like a stranger.
Lata is confused. She says it was she who stayed with him in Bangalore without revealing that she was the daughter of the CEO.  She had to depart all of a sudden without informing Ram, but she cannot understand why Ram is unable to recognise her.  An accident to the car carrying Ram and Lata solves the mystery. Physicist (Jayaprakash) finds out that Ram is affected by 'motivational delusion'.  He imagines Charu living with him in Bangalore while there is no such person in reality. Lata, who is about to get married soon, wants to help Ram. She starts inquiring about his background. She finds out that he had a disturbed past especially after his mother's death.  Charu comes as a breath fresh air in his life and he falls madly in love with her. Her sudden departure makes a deep impact on him and he starts living in an imaginary world with Charu.  Lata feels sorry for him but she cannot do anything about it, as she has to return to US to get married to her fiance. But a few twists in the tale force her to change her plans.
Muppozhudhum Un Karpanaigal, produced and directed by Elrid Kumar, has been shot lavishly in exotic locales. Sadly, Kumar, while focusing on such things, seems to have lost the grip on the script, which lacks logic or coherence. The director has got many things wrong. The depiction of software professionals and the romance track lacks credibility. The events move ahead in a hurried manner towards the climax. The suspense is completely missing. The physiological angle has been handled indifferently. The lead actors however, have given their best. Atharva Murali has shown a great improvement in his second film. He scores in some of the romantic and intense sequences. Amala gets a meaty character and does justice to it. She looks fine and emotes well.  Jayaprakash and Nasser give a satisfactory performance. Santhanam fails to impress. Anupama in a small role is quite effective. Cinematography by Sakthi is good. And GV Prakash has given some peppy music besides the effective background score.  Overall, Muppozhudhum Un Karpanaigal is rich in looks but poor in content.