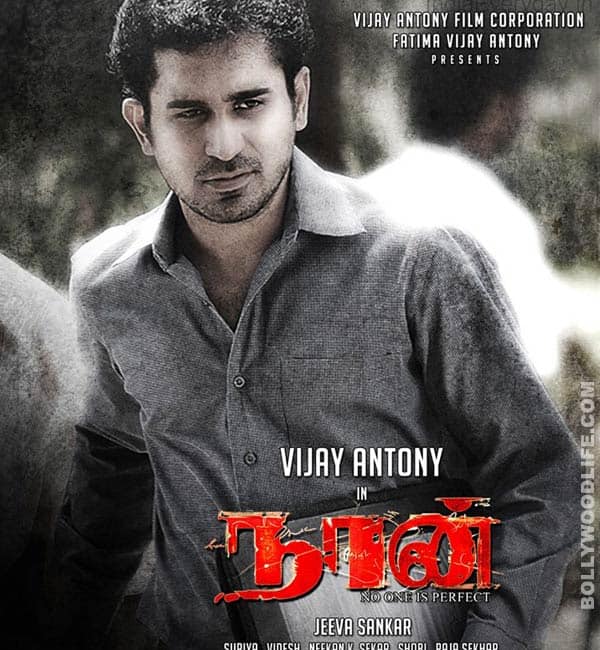 Directors turning heroes has become quite a Kollywood trend in recent years. The likes of Cheran, SJ Suryah, Thangar Bachan and Sundar C spring to mind. Now, there's a music director, Vijay Antony, who has made his acting debut in Naan, a home production
While the directors have had mixed luck in front of the camera, few music composers have chosen to appear on screen. Vijay Antony is apparently trying to buck the trend with this attempt. He doesn't, however, look too uncomfortable in front of the camera and has done what director Jeeva Shankar has instructed him to. Jeeva Shankar, an erstwhile assistant of late cinematographer-director Jeeva, has chosen a thriller for Vijay Antony's debut and made a good fist of his maiden attempt. Jeeva Shankar's style has several Jeeva touches and he is inclined towards painting a bright picture on a big canvas through vivid cinematography, which happens to one of the movie's strengths.
Interestingly, Naan is Vijay Antony's 25th venture as a music director and he has probably reserved his best for it, in terms of the tunes. Apart from Vijay Antony, there are the actresses who have forgettable roles in the film. . Remember Rupa Manjari of Thiru Thiru Thuru Thuru? She is supposed to be the leading lady but her presence is in no way remarkable. Others, including Anuya of Siva Manasula Sakthi and Vibha make fleeting appearances.
The story is about Karthik (Vijay Antony), who has had a troubled childhood. Despite his problems and attending a reformatory school, he does well in studies and has huge ambitions. He is in this school because he has killed his mother for her philandering ways. A bus journey turns his life around. A freak mishap leaves Karthik's co-passenger dead and he takes advantage of the situation to get away with the man's certificates and admission card to join a medical college. Whether he manages to achieve his ambitions forms the rest of the story even as he is haunted by his past and also a murderous streak.
Vijay Antony's acting debut is satisfactory, though it could have been better. The man is a quick learner and if he intends to prolong his acting career, he would do well to learn the craft and expand his range.
Read Reviews:
MIRATTAL movie review: Director Madhesh makes a typical masala entertainer
AALAAP Movie Review: A juvenile propaganda film