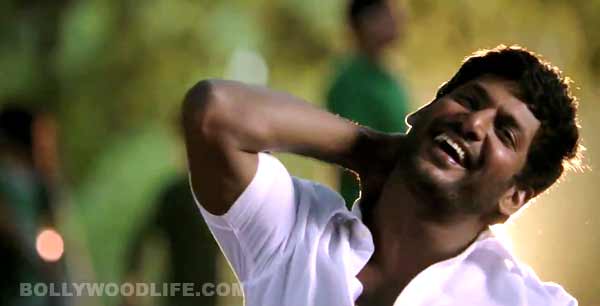 UTV co-produced Naan Sigappu Manithan's latest song is out
Vishal is ecstatic and cannot contain his joy in the first song from Naan Sigappu Manithan, Yelelo. He has earned his first salary and he wants to share his income and happiness with his near and dear ones. And in a soothing soulful track this feeling is perfectly rendered by Vishal and GV Prakash Kumar.
In Yelelo song one can see the hero celebrating his first earning with his friends Sundar Ramu and Jagan. This despite Vishal struggling with narcolepsy, a neurological disorder. The song shows an emotional moment between mother and son and is high on emotion. Apart from a hummable number it also has moments of choreography. Vishal sticks to his character falls asleep amidst a high energy dance act and soon comes back alive when he performs some cool moves.
The film also features Lakshmi Menon and Iniya. Vishal apart from playing the protagonist has co-produced this movie with UTV. This promising Tamil thriller is directed by Thiru.
Here BollywoodLifer's take a look at the Yelelo song from Naan Sigappu Manithan.