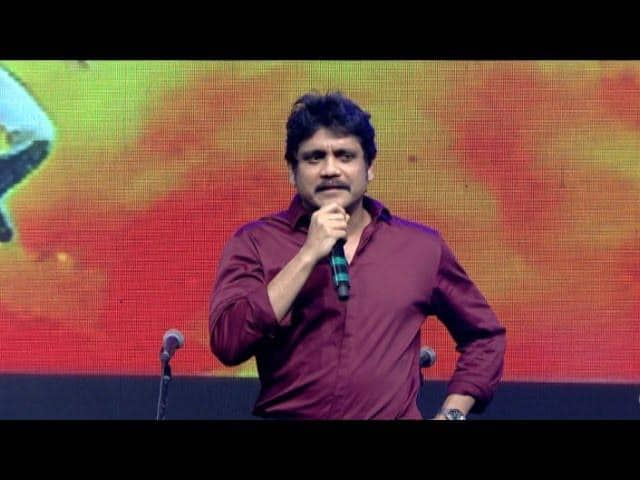 The Manam star left everyone teary eyed with his emotional speech about his late father Akkineni Nageshwara Rao, at the film's celebration party.
People gathered at Manam Sangeetham, the film's celebration party in Hyderabad, would have not expected to pull out their hanky's to soak their tears. Manam became one of those rare films which celebrated even before it hit the screens. The host for the evening Akkineni Nagarjuna welcomed everyone, but it was his speech in the remembrance of late Akkineni Nageshwara Rao aka ANR that left everyone speechless.
Bollywoodlife brings you the excerpts from Nagarjuna's emotional speech at Manam Sangeetham:
"I am bit confused over whether to feel sad or happily celebrate the film. I am happy that the movie has come out very well. Meanwhile, I am sad that I can't work with my father after this film. I don't understand what to do on this occasion. This celebration of Manam is very dear to all of us. Generally, celebration of a movie will take place after its release, but we are doing it before the release of Manam."
"ANR is a legend in acting. His first film was released on November 22, 1944. He passed away on January 22, 2014. Manam is premiered on May 22 and released in theatres across USA on the same date. This is a magic of numbers and this is magic of ANR. From 1944 to 2014, he had 70 years of glorious filmy career in 100 years of Indian cinema. He has made us cry, laugh and love him. He has found a permanent place in the heart of Telugu audience."
"During his last birthday on September 2013, a reporter asked him, "three generation actors have worked together in Manam, are you thrilled?" My dad replied, "I won't be thrilled as I am acting in it. It is viewers, who will be thrilled to watch us together. I don't know whether anyone will be thrilled or not, but me and Chaitanya will definitely feel it. After I became actor, I realised his greatness as an actor. Manam is his last film and it is not only me, but everyone, who worked in it are lucky. They should be proud to be part of it. I am proud of it."
"ANR was not only a legendary actor, but was also a complete man. When I saw him serving my mother, I realised that he is a good husband. The kind of love and affection he had for all his grandchildren show me that he was a good grandfather. Despite his body getting week due to cancer, he was energetic. In the last months, he created a bonding in all the members of my family. I don't know how he did it, but he has given me that strength. The day he breathed his last, we sobbed a lot not because he died, but because we lost his love and affection, which we wanted to enjoy few more days. "If I go on talking, there won't be any end to his story."
Looking at  ANR's happy picture  in Manam, Nagarjuna walked down the memory lane to the moment of shooting that particular scene in the film. With tears in his eyes, Nagarjuna said, "We shot this scene on the last day. My dad said to smilingly "Don't worry. I am there looking after you forever."
Now that is one heartfelt speech. Manam, which is releasing this Friday, has got the fans hooked with its music and trailers. There are plenty of reasons to watch the film on silver screen – firstly it is legendary ANR's last film and the coming together of actors of all the three generations of Akkineni clan for the first time ever and also the last. After hearing Nagarjuna speak during the film's celebration party, one certainly finds one more reason to watch Manam ASAP! What say, Bollywoodlifers?