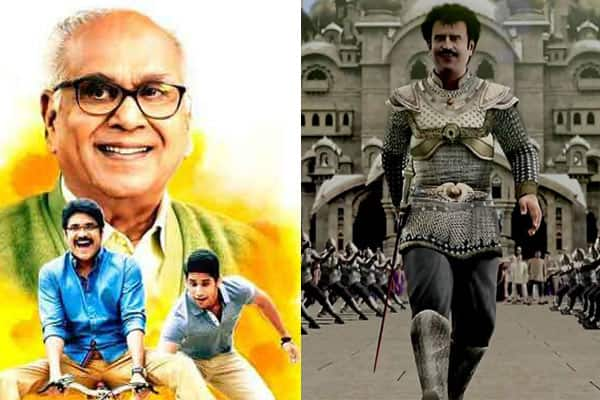 Manam opened up to record box office collection of Rs 4.96 crore in USA over the weekend beating Kochadaiiyaan hands down
Kochdaiiyaan versus Manam box office battle is perhaps the most talked about clash of 2014. The clash of the titans have had its up and downs with Kochdaiiyaan getting mixed reviews due to technical drawbacks and Manam has unanimously been praised by critics and fans alike.  Kochadaiiyaan, despite its flaws, came back to strike gold at box office with earnings of Rs 42 crore compared to Manam's collection of Rs.7 crore over the weekend in India.
But far from India, in the land of uncle Sam, Manam had given Kochdaiiyaan a drubbing. The reports claim that Manam's box office collection over the weekend in USA is Rs 4.96 crore out doing Kochadaiiyaan by a mile which had earned only 2.56 crore.  Manam which had released in over 108 screens across USA is winning the hearts of the NRI's in USA. Considering the popularity of Rajinikanth, it comes across as a surprise that Kochdaiiyaan is trailing Manam in the US.
Nagarjuna, who had revealed these numbers of Manam's US collections, took on twitter to express his gratitude towards the entire Manam team and shared his happiness with his fans. The  enthused star tweeted " #ANRlivesOn overwhelmed by the response after the premier/back home now and missing nana/ANRs magic is on:). My dear Supriya we couldn't have done it without you:) #ANRlivesOn I need to thank Vikram,Vinod,Harsha,anoop,rajeevan,Nalini,Chuniya and all the manam team for this classic/so proud of you:)"
Samantha Ruth Prabhu, whose lovely portrayal of mother had come to a lot of appreciation, tweeted "So so happy with the unanimous positive reports on Manam..God's favt child 5th year in a row.. Thankyou so much for all your support."
After seeing the overwhelming response for Manam from the NRI babu's in US , one has to say though Kochadaiiyaan still has the command on the silver screen, it is Manam which is touching the hearts of the people.