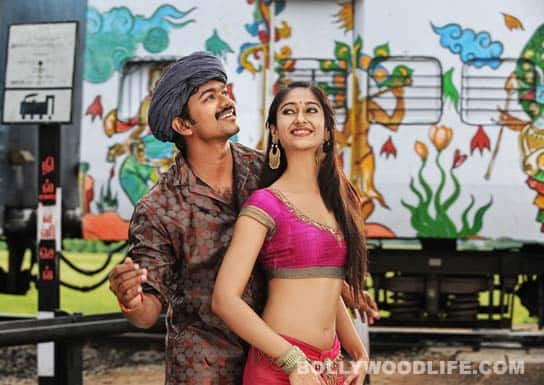 Festivities are definitely in the air as Vijay fans gear up to welcome Nanban with milk abhishekams and crackers!
Shankar's Nanban, which stars Ilayathalapathy Vijay, Jeeva and Srikanth is all set to rock. It hits a record number of theatres all over the world on January 12, 2012. Reports say that fans had queued up at the cinemas since as early as 5 am. "It's nothing short of 'Deepavali' in front of theatres screening Nanban with fans of superstar Vijay fans bursting crackers and doing milk abhishekams to the cut-outs of their favourite star. In fact, celebrations started from last night itself," says an eye-witness near a theatre at Ashok Nagar in Chennai. The movie is a remake of Aamir Khan's 3 Idiots. But is that the reason for all this hoopla? Not really.
Pugazhvelan, another ardent fan of Vijay says, "Though I haven't watched 3 Idiots, the original version of Nanban, I've heard that it is a great movie. With the Ilayathalapathy at the helm of affairs in the Tamil version, I am expecting a lot from it." Yet another fan, this time also the office-bearer of a Vijay fan club,Vinod Kannan says, "Our Pongal celebrations start from today. For a long time we were expecting Vijay to join hands with director Shankar and this will happen with Nanban, finally. I am eager to watch the first day first show." Guess it's just the superstars of South pulling the crowd here. Time to put on your party shoes, people!