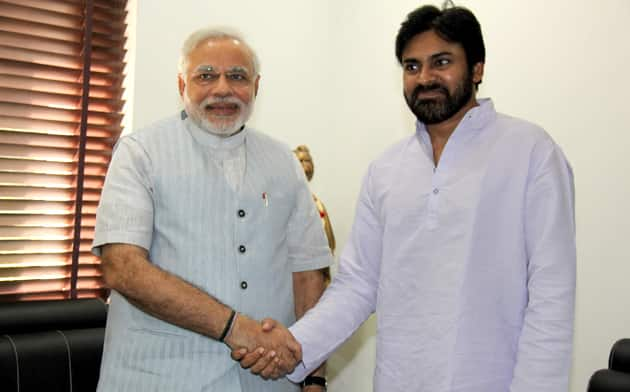 Modi tweeted thanks to the power star for his efforts in the TDP-BJP victory in Lok Sabha elections 2014
The founder of Jana Sena Party, the power star Pawan Kalyan has been the most popular name in Andhra Pradesh this elections. His popularity amongst the masses and his honest man image has worked wonders for Modi-Chandra Babu Naidu alliance.
In this euphoric moment of celebration, our PM to be Mr Narendra Modi has not forgotten his aides down South. NaMo recently tweeted "I want to express my gratitude to Pawan Kalyan Garu for his enthusiasm & support through the campaign across Andhra Pradesh (sic)". Soon the TDP supremo Chandra Babu Naidu followed the suit and thanked the star for his role in the victory.  "A silent wave in AP. For this victory, I owe thanks to the lakhs of TDP cadre, @narendramodi & Pawan. Good governance & development won! (sic)," Chandrababu Naidu posted on his page.
Power star Pawan Kalyan reciprocated his respect for PM to be by giving an official statement stating  "It was most graceful of Modi ji to mention me. I have great respect for his leadership and have only tried to do my bit. I am confident that Modi ji will lead the nation towards progress and development and will give the youth of the country hope and direction. I wish him all success in the great responsibility that he has assumed."
Pawan Kalyan, while addressing his fans said that he has no plans of taking a sabbatical from his filmi career. In this election season, when all stars seem to fade in front of Narendra Modi, there is one star who has become the most talked about name in Andhra and that too without even fighting elections. Take a bow Pawan Kalyan!