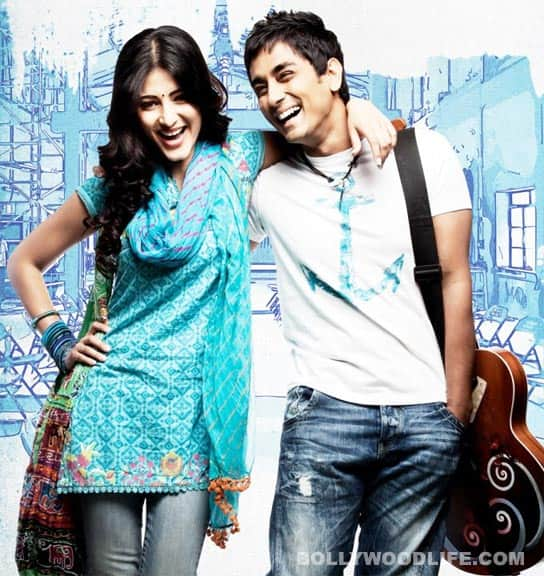 Oh My Friend is watchable but be prepared for a predictable story line
After a gap of five years, actor Siddharth and producer Dil Raju have teamed up again in Oh My Friend. Earlier, Raju had produced Bommarillu, starring Siddharth and Genelia D'Souza, and it was a superhit. Naturally, this venture was running high on expectations and with Siddharth sharing screen space with his ex-girlfriend Shruti Haasan, the film had already generated a lot of hype, much before its release. Alas, a cliched plot fails to create interest in the film, but technical values and some powerful performances clearly hold the key."Oh My Friend does not boast of any fresh story or innovative narration. Like any other Telugu film made with some good production value, this film also has soothing music and fantastic visuals to leave the audience with a happy smile. And not-to-forget natural performances of Siddharth and Shruti – the two have lived up to the audience expectations.
But what is irritating in the film is its slow narration and the fact that screenplay of the film is too stale and predictable. Also, the film leaves you with a sense of deja vu, and reminds you of previous Telugu films – Chiranjeevi's Idhdharu Mithralu and Venkatesh's Vasantham.
Chandu (Siddharth) and Siri (Shruti) are close friends and their passion for music and dance binds them together. Even though they share a platonic relationship, some of the people around them misunderstood this relationship.
Meanwhile, Chandru falls for Ritu (Hansika) while Siri too is engaged to a US-based boy, Uday (Navdeep). But how elements of jealousy and possessiveness bring in misunderstandings in their relationship and how the two come out of this situation, forms the rest of the story.
Both Siddharth and Shruti have done justice to their roles. Thanikella Bharani too has performed well and comedy actor Ali succeeds in bringing a few laughs.
Film: Oh My Friend; Producer: Dil Raju; Direction: Venu Sriram; Music: Rahulraj; Cast: Siddharth, Shruti Haasan, Navadeep, Hansika, Thanikella Bharani, Ali.
ALSO READ: