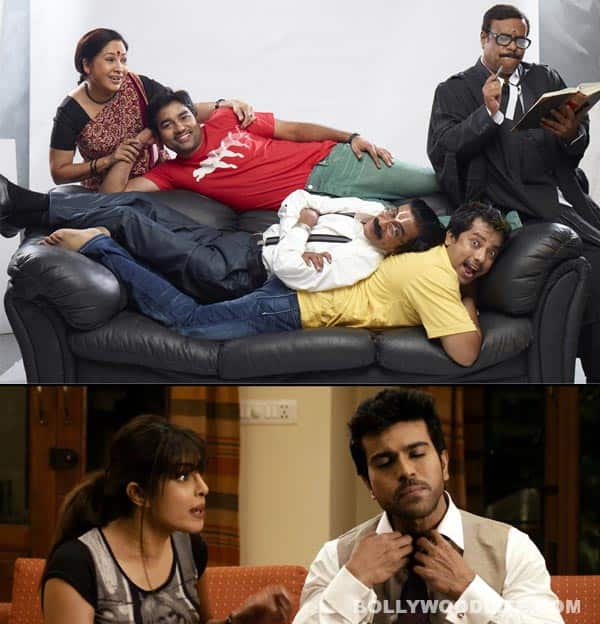 Dharshan portrayed Kamal Haasan's character in Rasleela. Mirchi Shiva will be reprising Superstar Rajinikanth in Thillu Mullu. Well, its raining remakes down South
Kollywood has been looking into the past for inspiration and even straight remakes in recent times. The film that set off the trend was probably Naan Avanillai in 2007 by Selva, a remake of K Balachander's 1974 film with the same title which starred Gemini Ganesan. The remade version had Jeevan in the lead, along with Sneha and Namitha. As far as remakes go, it was a reasonable success.
More recently there has been Sattam Oru Iruttarai, remade from the 1981 film with the same title. The original was directed by SA Chandrasekharan and the remake was by his niece Sneha Britto and featured Reema Sen, Pia Bajpai and Bindhu Madhavi with Taman Kumar.
The remake that's currently making news is Thillu Mullu, the 1981 classic starring Rajinikanth in the lead role. It was directed by Badri and featured Madhavi as Rajini's romantic interest, besides Thengai Srinivasan and Sowkar Janaki in key roles. The film was a full-length comedy and showcased Rajini's talents in this genre. It was a runaway hit and is still watched with much pleasure.
No wonder then there have been groans of 'Oh, no not Thillu Mullu' at the news of it being remade. Mirchi Shiva plays the protagonist and talented as he may be, Rajini's would be a hard act to emulate, leave alone better.
And now comes news of the 1967 hit, Pattanathil Bhoodam, starring Jaishankar, KR Vijaya and Nagesh, being remade with Power Star in a key role. The original, directed by MV Raman, was a novelty in its time with magic effects that added to the charm of the film. It remains to be seen how a movie like that will translate onto the screen in these days of hi-tech and CGI knowhow. The remake is to be directed by Manikandan, who made Kanna Laddu Thinna Aasaya and, apparently, Mirchi Shiva has been approached for this remake as well.
Interestingly, when Manikandan's KLTA released, veteran actor-director K Bhagyaraj cried hoarse that it was a rip-off of his film, Indru Poi Naalai Vaa which released in 1981.
Meanwhile, reports of the Sigappu Rojakkal remake keep cropping up from time to time. This 1978 thriller starring Kamal Haasan and Sridevi and directed by Bharathiraja has reportedly been picked up by Bharathiraja's son, Manoj, in order to be remade.
The latest is that Kaasethaan Kadavulada, the 1972 film which featured Muthuraman, Thengai Srinivasan and Lakshmi is going to be remade by PT Selvakumar. Apparently, Vadivelu, Sivakarthikeyan and Vijay Sethupathi are being considered for the remake.
Keeping pace with Kollywood when it comes to remaking old classics is the Malayalam industry. Chattakari, a remake of the 1974 hit film (Julie in Bollywood) released last year, featuring Shamna Kasim and Hemant in the lead. It was directed by Santhosh Sethumadhavan whose father made the original. The remake did well at the box-office, but there were sections of the audience who maintained the old favourites should not be tampered with.
Mollywood also remade Rasaleela, Sankaran Nair's 1975 film, after 36 years. The characters of Kamal Haasan and Jayasudha in the original movie, considered bold and path-breaking at the time, were portrayed by Dharshan and Pratishta. Majeed Marangery was at the helm.
Last year there was also Nidra, the romantic thriller directed by debutant Siddharth Bharathan. It was a remake of the 1981 film of the same name directed by Siddharth's father Bharathan. The remake starred Siddharth, Rima Kallingal and Jishnu in the main roles.
Before that there was Rathinirvedam, a remake of the 1978 movie, considered experimental and trend-setting. The original starred Jayabharathi and Krishnachandran in the lead roles and was a runaway hit. It was remade after three decades and more by TK Rajeev Kumar. This again had the lovers of vintage cinema howling in protest.
And now comes news that Parankimala, the 1981 hit from Bharathan, which had Nedumudi Venu and Soorya in the cast, is going to be remade by Sennan Pallassery. The initial buzz is that newcomer Vinutha will play the role in which Soorya dazzled. Lal will reprise Nedumudi Venu's role.
Sandalwood hasn't been digging too much into the past. But Raam, the Tamil film of 2005 starring Jiiva and Saranya is being remade by Om Prakash Rao in Kannada. The movie is likely to be launched in April.
Tollywood is a big remake factory, but prefers more contemporary films. Ram Charan Teja's next, Toofan, is an exception and is said to be a re-imagining of '70s hit Zanjeer.